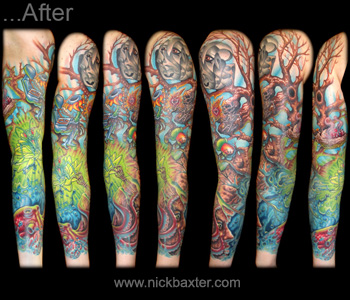 Surrealist Tree Rework Sleeve
The finished version of this partial-rework sleeve is very intricate and has alot going on--it's definitely the type of piece that needs to be viewed from close up to catch everything that's going on. The client had a lot of ideas she wanted incorporated, all of which have some personal meaning for her so if this collage of images doesn't make sense to you, you're not alone. There are some interesting optical illusions happening though, where certain tree branches become cuts in the tree trunk, or vice versa. I did my best to include her existing tattoos as much as possible, either having them be on the tree or morphing into the tree itself.
large image
back
Image copyright Nick Baxter. No reproduction without permission.