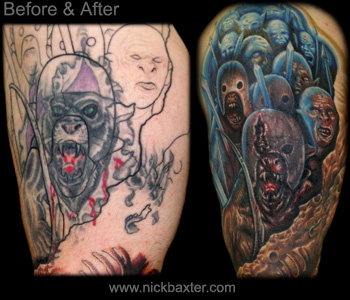 Orc Battle Sleeve (Cover Up Detail)
Close up views of the coverup portion of the Orc Battle Sleeve. The before version has my new outline on it already in this photo. I like using as much of the old tattoo as possible when doing coverups in case any of it still shows through, and because of certain Orcs' remarkable resemblance to a snarling panther, this worked out well here. We may have to go into the helmet again if the panther's head outline shows through any more. We figured that for now it looks enough like dents, dirt, etc. on the helmet.
large image
back
Image copyright Nick Baxter. No reproduction without permission.