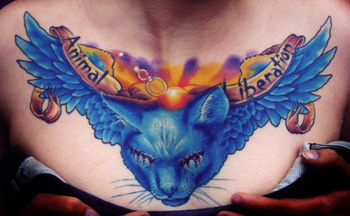 Animal Liberation Cat Angel
This is my favorite tattoo i've done thus far i think, because of both the subject matter and the technical aspects of how it healed, etc. It meant alot to be able to do, as it's on my friend Meredith and i am vegan and care alot about animal rights issues. For anyone interested in a basic introduction to these kinds of issues i'd suggest checking out www.veganoutreach.org...
large image
back
Image copyright Nick Baxter. No reproduction without permission.