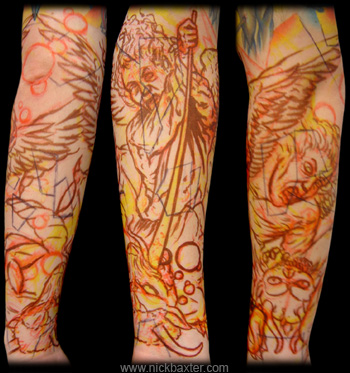 Medieval Battle Scene Drawing
This is how the tattoo featured in the following two frames of this gallery was started. I'm including it here just to show the process of drawing a fairly detailed and intricate piece directly on the skin (rather than using the usual method of drawing on paper first, and then transferring it to skin via stencil). By request, this piece was based on a woodcut by Albrecht Durer, which I looked at for reference during the approx. 2 hour drawing process. This was definitely more nervewracking than drawing on paper first, but lent itself very well to the looser, more 'painterly' look we wanted to acheive.
large image
back
Image copyright Nick Baxter. No reproduction without permission.