8/25/14

September 2014
I'd like to remind everyone who's asked over the past year about the re-release of my instructional painting book Sharp-Focus Realism In Oil as a digital eBook. I wrote a bunch of new content for this edition, and priced it lower than the sold-out hardcover edition, which means that you basically now get more, for less. For now I've partnered with the great people at 2 companies I endorse to make this eBook available. You can now buy a copy over at the Stay True Organics website, or at the Tattoo Education website as well. All of the information on the book, including a great testimonial by a fellow tattooer/painter, can be found by clicking the new "PAINTING EBOOK" button to your left, or on the image below.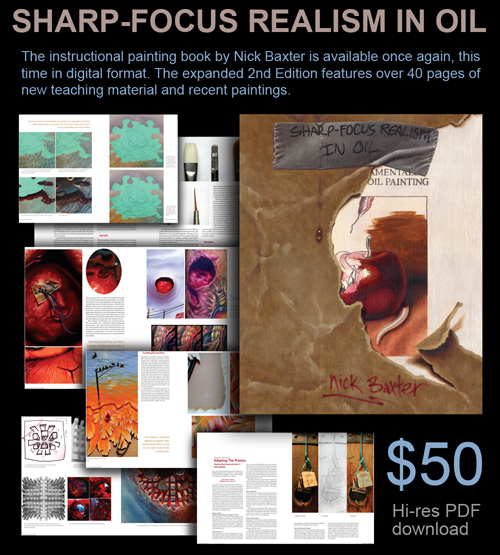 In other news, I'll be attending the 10th anniversary of the London Tattoo Convention September 26-28, as well as the opening party of the "Time: Tattoo Art Today" exhibition curated by the promoter of the tattoo convention and hosted at the prestigious Somerset House Gallery. I'm extremely humbled and grateful to be included in such a momentous fine art exhibit, and looking forward to seeing the presentation of impressive works in person. As for the convention, it appears as though I'm all booked up over the weekend, but I'll have various merchandise available, including my painting eBook with a special convention discount code.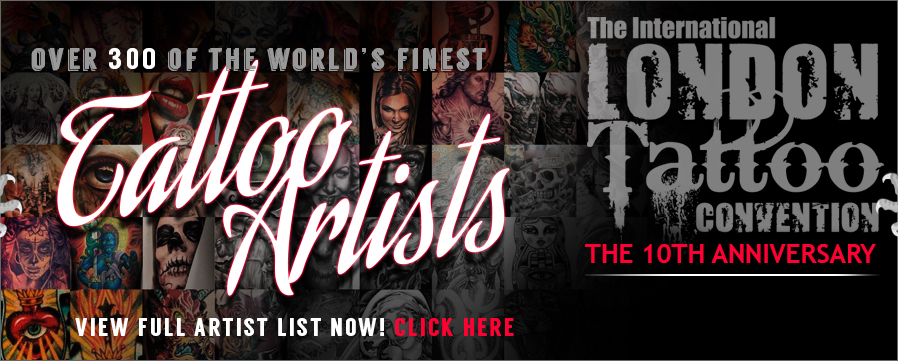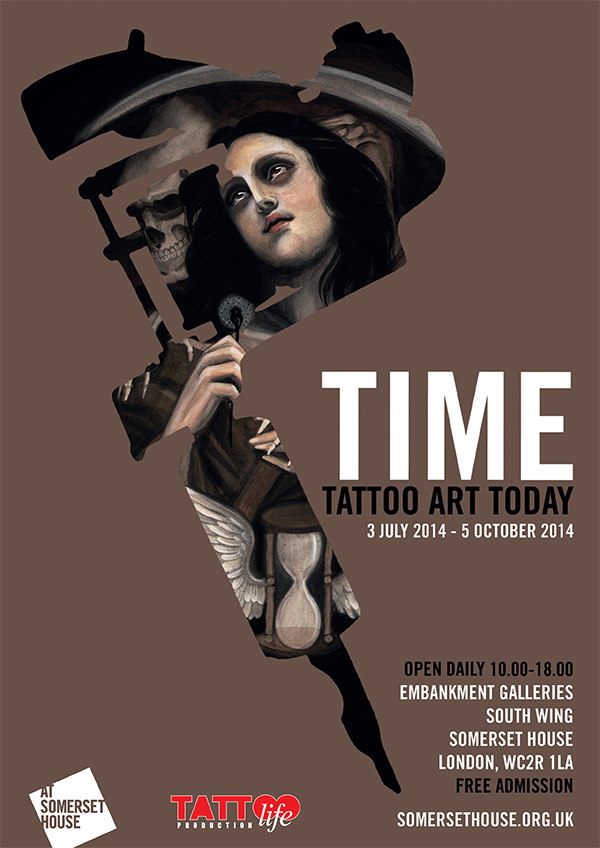 Then in November I'll be tattooing at the La Paz tattoo convention in Bolivia, South America. As of right now (8/25) I may still have some time available during the show, so if you're interested in collecting a tattoo from me there, please get in touch for consideration.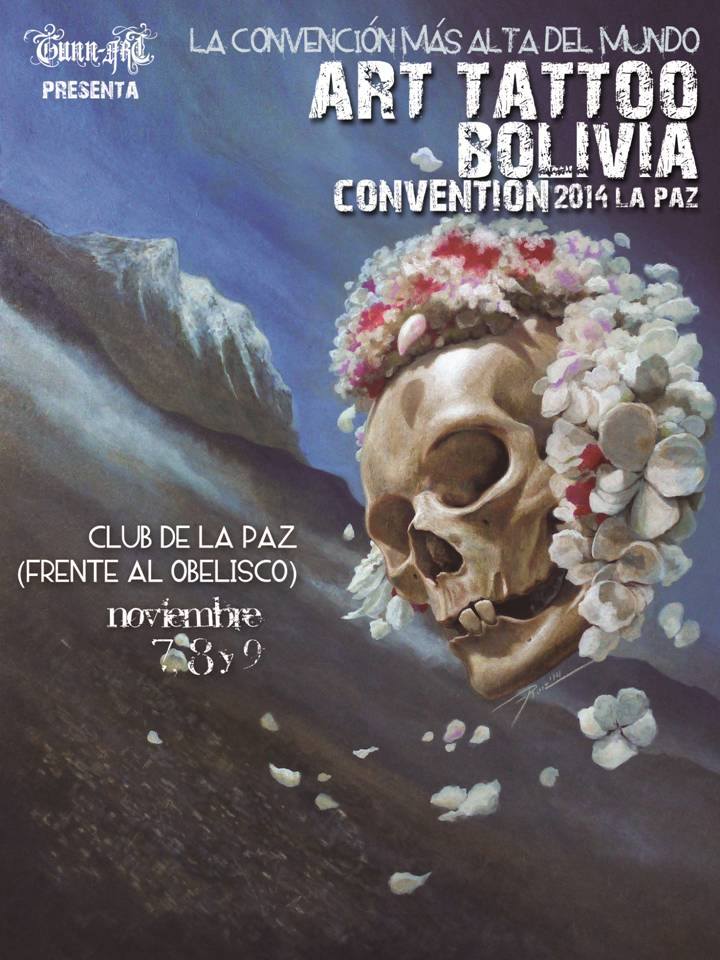 I must say thanks again to the nice people I tattooed at the recent Hell City Tattoo Festival, or who bought paintings and prints during my summer studio sale, where I was clearing room and raising funds for my move into a smaller studio space. The support truly means a lot to me, and I hope you great folks enjoy your new art and find inspiration in it. Of course, not everything in my back catalogue of completed works has sold, including a few from my two most recent painting series "Reclaiming" and "Apostasy" so please contact me if you're interested in owning any of these originals.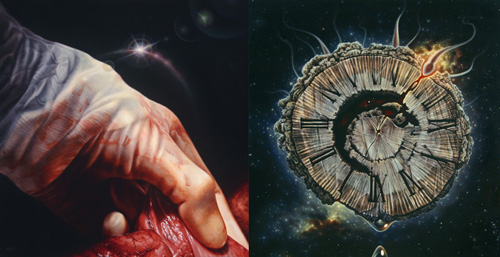 Lastly, in another realm of life entirely, there have been a series of disturbing events taking place in the small town of Ferguson, Missouri involving police violence and heavy militarization to repress public outcry. This brings up many very sensitive and controversial subjects, highlighting some of the biggest problems in our present day society. The issues, like always, become complex upon closer examination, but regardless of where you stand on certain topics, there are now people hurt and in jail for attempting to stand up for the rights and safety of their fellow citizens. After hearing horror stories from friends of friends who were there and suffered injury at the hands of police, I was inspired to donate money to their legal defense fund. If you feel compelled to help out in some way after being touched by some of the issues this conflict has brought up, but can't be there in person, you can donate here like I did. You can also get some perspective on the events from the side that corporate media won't reveal by going here, here, here, and here.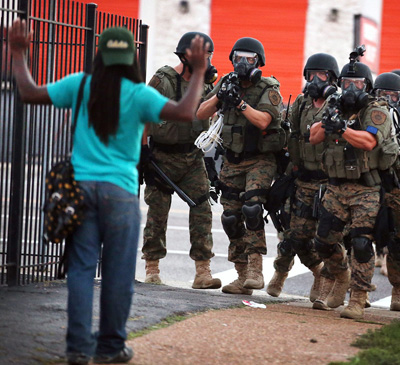 ---
7/6/14

July 2014
Phew...I've been so busy with various projects and life changes lately that I havent made a news update in several months. Well, now that I've got a few things settled I have some fun things to announce and unveil.
The biggest thing on the list is the re-release of my instructional painting book Sharp-Focus Realism In Oil, as a digital eBook. I wrote a bunch of new content for this edition, and priced it lower than the sold-out hardcover edition, which means that you basically now get more, for less. For now I've partnered with the great people at 2 companies I endorse to make this eBook available. You can now buy a copy over at the Stay True Organics website, and soon, at the Tattoo Education website as well. All of the information on the book, including a great testimonial by a fellow tattooer/painter, can be found by clicking the new "PAINTING EBOOK" button to your left, or on the image below.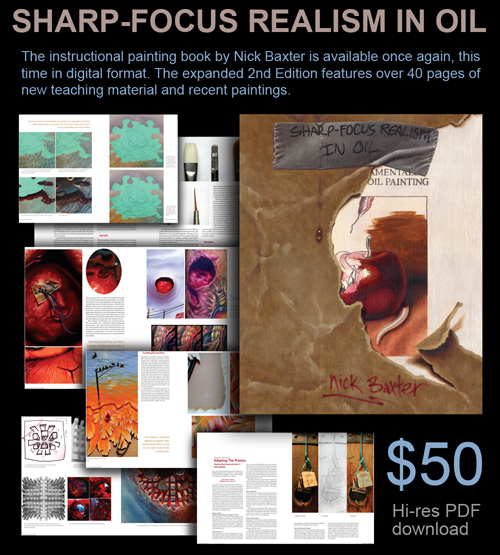 The other big thing happening right now is moving out of my current studio space that I've had for the last 3 years, into a smaller but much better one. This means a month-long studio sale, where I'll be offering 20-30% discounts on any of my currently unsold paintings, in order to clear some space and lighten my load a bit. If you've enjoyed my paintings and fine art but haven't wanted to spring for the purchase, now is an amazing opportunity to collect some work from my last few painting series (2010-2013), as well as some much older pieces at even steeper discounts. All pieces for sale will be marked "Available," and conveniently organized by year and series, on my painting website www.nbaxter.com Have a look and send an email if you're interested in something or have questions about pricing.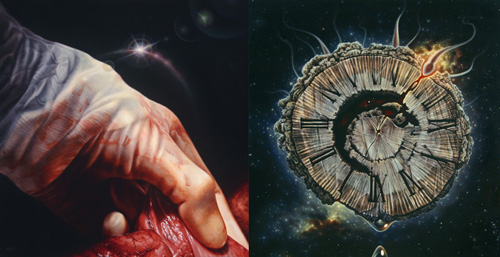 In the process of studio cleaning, I unearthed one of my older prints of the painting "Plastic" from a sold out edition of 18, and am offering it for sale. These prints have been long gone since 2008, except for this very last one. I'm pricing it at $200 plus shipping. If interested, send me an email. Also note, the original painting is still available, too!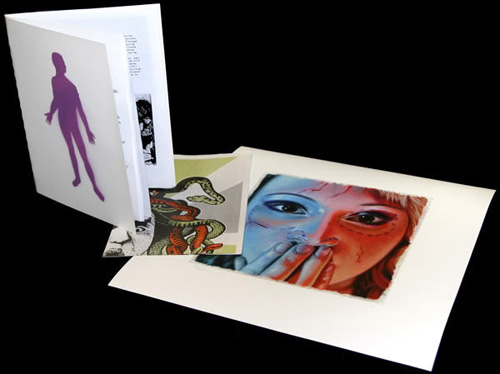 For the past few years I've had an ongoing project of getting my essay Evaluating Art: Principles of Critique translated into all the languages of the world, to help serve the learning of tattooers worldwide. I'm excited to add a Portugese version to the free downloads page, provided recently by my incredibly generous and kind colleague Lucas in Brazil. If that happens to be your native tongue, download the article here. If you have the time and desire to contribute an accurate translation in your native language not already included in the list, please get in touch. It's a great opportunity to encourage sharing and learning, and participate in the building of a stronger worldwide tattoo community.
Speaking of worldwide tattoo community, my good friend and colleague Ramiro Suarez, owner of Ganesha Tattoo in Medellin Colombia, asked me recently to put out a call for guest artists. He's hosted me before and helped with bookings, and is always looking to bring international talent to his region, to help the scene grow there. I had a great time when he last hosted me, and recommend South America for anyone looking for adventure and new experiences. Get in touch with him directly if you're interested.
That's all for now, until Hell City Tattoo Festival next month in Phoenix, and then some international conventions in the fall... More announcements in the coming months. Thanks for reading and supporting my work, I am forever grateful for the opportunity to do all of this.
---
3/29/14

April 2014
This month marks the unveiling of my feature interview in Tattoo Artist Magazine Issue #37, with a recent painting of mine being one of two available cover images. I'm really proud of this interview, which was the result of a several-months-long collaboration between interviewer Ben Shaw, editor/CEO Crash, and I. It covers a lot of thorough ground about my life's journey and a wide range of topics important to me and central to my art and tattooing, along with several previously unpublished photos from my childhood and early adult years. Unfortunately for fans and clients, TAM has always been a trade publication available only to fellow tattooers, but I believe this policy might be changing soon. So if you're not a tattooer, check the TAM website for updates or contact them to inquire about it. Sometime in the future I will post the entire interview to this website, but for magazine sales purposes, for now it's only available through TAM.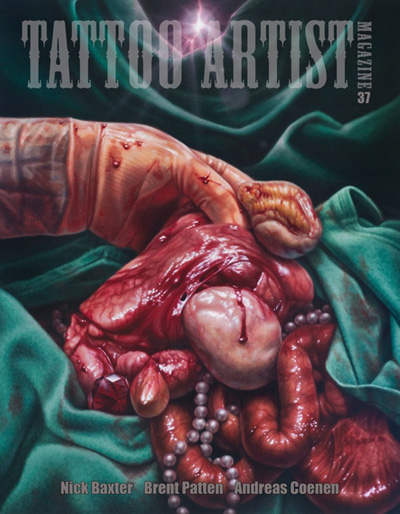 Also happening this month is the Hell City Tattoo Festival in Columbus, Ohio. I will be there as usual, tattooing all weekend alongside my friends Adrian Dominic and Jeff Ensminger. I'm already fully booked, but I have posters for sale as well as the usual free goodies like stickers and assorted reading material.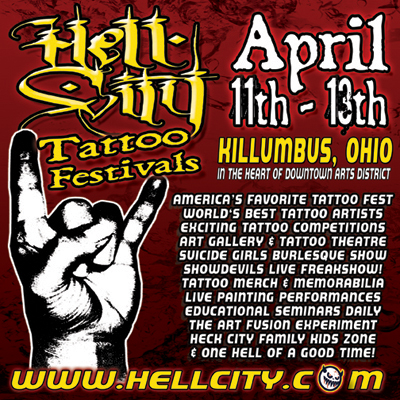 If you own a smartphone, you can now enjoy a much better viewing experience of this very website, which was recently converted by my trusty website guys at TattooNow into a responsive site. This means that nickbaxter.com automatically loads a streamlined mobile version when opened on any phone with internet access. Check it out next time you're mobile internetting!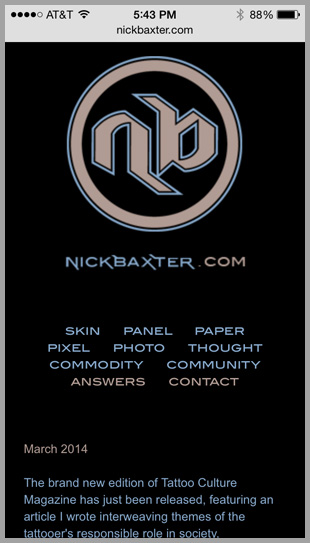 And just in case you missed them, a few social media links were added to the site recently in the lower left corner, so you can navigate straight from any page here to my Instagram, Twitter, or fine art website. If you want to keep better tabs on what I've been up to, I've been posting sneak previews of my in-progress tattoos and paintings over on Instagram, while saving the finished gallery-quality photos for my actual websites.
Lastly, check out my previous few announcements via the "view more" link below, to get info on my limited edition tattoo machine by FK Irons and other projects in the works. Take care and enjoy the new growth and fresh air of springtime!
---
1/20/14

March 2014
The brand new edition of Tattoo Culture Magazine has just been released, featuring an article I wrote interweaving themes of the tattooer's responsible role in society, environmentalism, and meditative inquiry. TCM is a unique tattoo magazine showcasing some of the best artists in the industry along with intelligent, thought provoking, and inspiring lifestyle content. The emphasis of this all-digital publication is quality, and I'm thrilled to have a regular writing gig to support this progressive effort. Get more info on the TCM website, and download it to your phone or tablet so you can read it anywhere, anytime you're bored.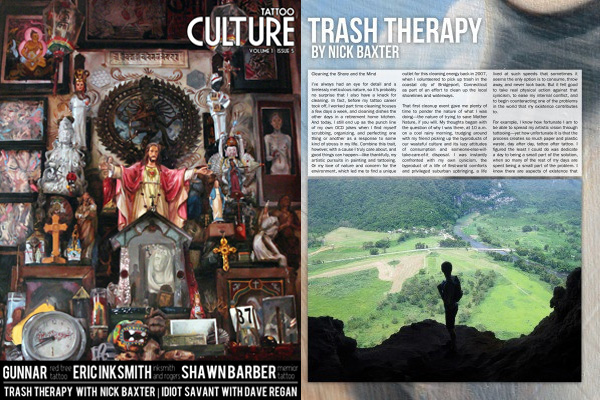 For the past 5 years I've been using tattoo machines made by Fallen King Irons, with great results. Although I still use machines made by others, I like my FKI 1.5 coil machines enough to not only recommend them, but to participate in their Artist Signature Series of limited edition machines. My very own "lefty" model was just released this month, in a limited run of only 100 machines. I designed it around the concept of the Fallout Shelter, which you can read more about in the custom packaging. Designed with a clean yet rugged, minimalist aesthetic, this machine is meant to be a no-frills, reliable workhorse, and a reminder of the shelter we must seek within ourselves to maintain our creative passion despite all obstacles. If you order soon, included is a tshirt I designed, with some of the profits going to benefit www.rfc.org, in keeping with the theme. If you're a professional tattooer, you can order yours here.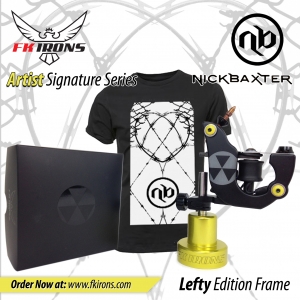 The 9th International 2012-2013 ARC Salon Catalogue, which features one of my recent paintings depicting surgical subject matter, is now available. This is my second year in a row being chosen for inclusion in this worldwide competition of realism art, which showcases some of the most outstanding classical art techniques still flourishing today. You can buy the book here.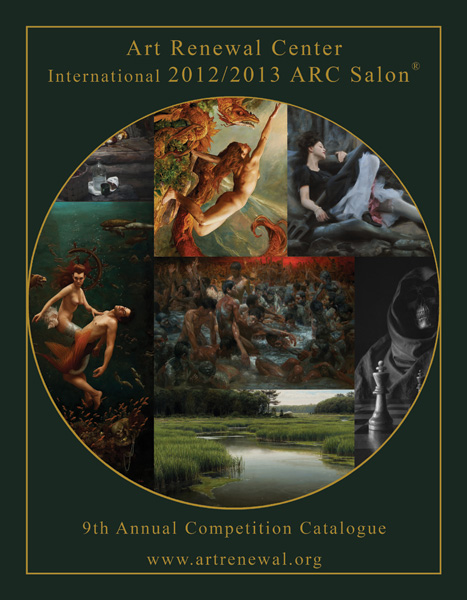 In December I was featured in Freshly Inked magazine. And they didn't even censor my small rant disavowing the false promise of the capitalist exchange economy, in favor of systems of mutual aid and barter whenever possible...kudos to them! You can actually read the full interview on their website.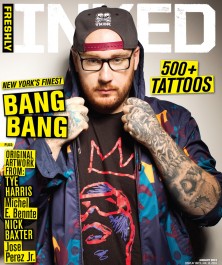 Later this year will bring a digital re-release of my instructional oil painting book, originally published through Guy Aitchison's Proton Press in 2010. The hardcover first edition has now completely sold out, so this second edition will be an experiment in paperless ebook publishing, which will feature a section of all-new content and an even more affordable price, available from tattooeducation.com.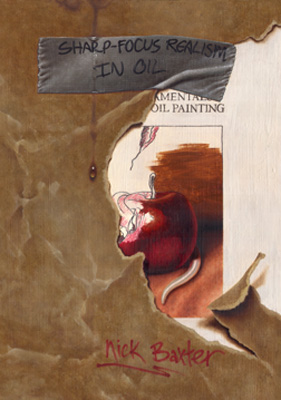 ---
12/23/13

December 2013
This month I am featured in the brand new issue of Freshly Inked magazine! And they didn't even censor my small rant disavowing the false promise of the capitalist exchange economy, in favor of systems of mutual aid and barter whenever possible...kudos to them! You can actually read the full interview on their website.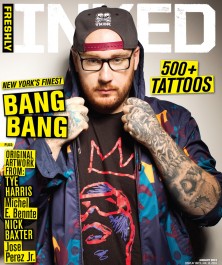 The aluminum prints I wrote about last month have now all sold to good homes--thanks again to tall the nice collectors who bought them!
There are a few new tattoos posted in my skin gallery from the past month or so, with possibly a few more completed projects coming up soon...
And keep an eye out early next year for a digital re-release of my instructional oil painting book, originally published through Guy Aitchison's Proton Press in 2010. The hardcover first edition has now completely sold out, so this second edition will be an experiment in paperless ebook publishing, which will feature a section of all-new content and an even more affordable price, available from tattooeducation.com.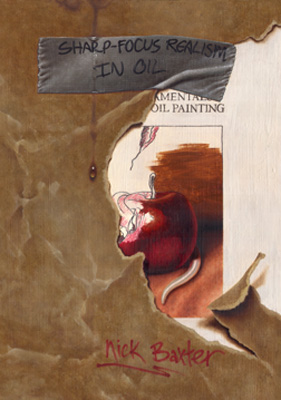 Happy holidays, and may you all enjoy peace, health, and success in the new year.
---
11/4/13

November 2013
For the first time ever, I have extremely limited archival prints available on gorgeous brushed aluminum. This was an experiment to create a unique and striking, ultramodern aesthetic that compliments the surgical subject matter and my photorealist painting style, and I'm thrilled with the results. Because printing on metal is much pricier than paper, and preparing the digital files is a little trickier, I started out with a very small edition size of only 2 copies each, at a higher price than previous prints I've made. Luckily though, these are still far below the price of the original paintings, and the 2 square images are at actual size of the paintings. Please email me through the "contact" button to inquire about availability.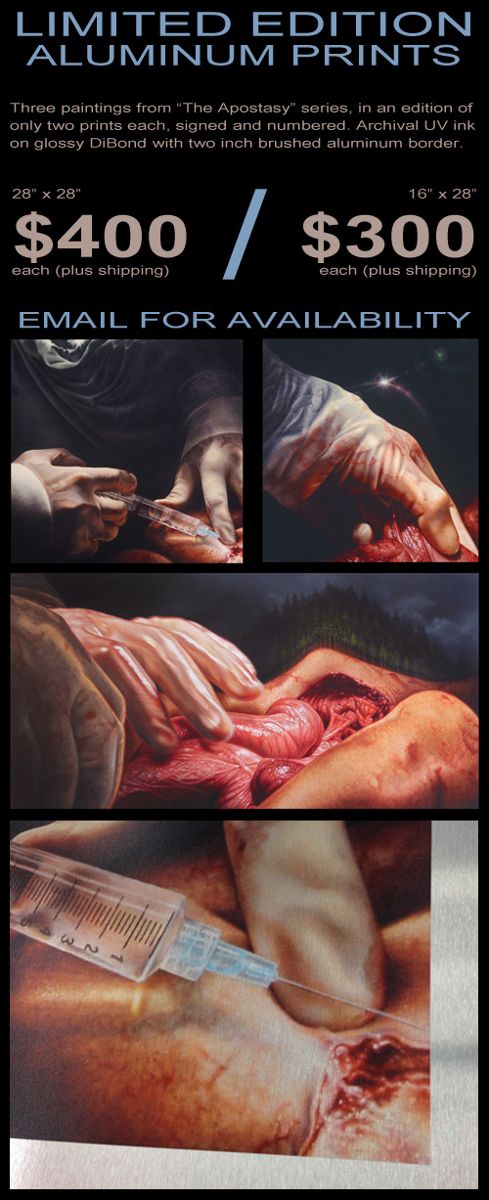 I have a bunch of tattoos featured in the brand new tattoo book Antennae of Inspiration: The Insect Art Project. It features an extensive and creative collection of entomology-based artwork from around the globe. It's a full color, hardback, coffee-table style, 480-page beauty of a book that you can feel good about buying because Jinxi and OOS Books are committed to giving back to the art community. A percentage of all sales from the Inspiration Art Project Series of books is donated to classrooms in need through donorschoose.org.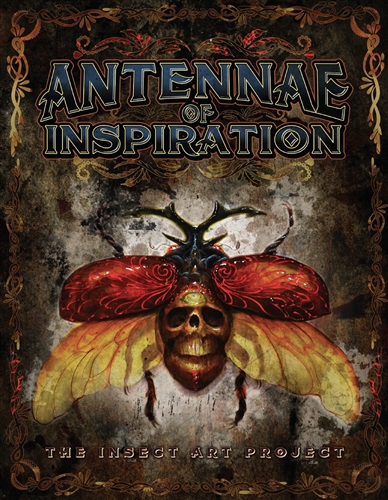 And don't forget, if you live in the Northeast U.S., that I have paintings on display in two group shows through the rest of this year. You can get more details on those exhibitions in last month's update by clicking on the "view more" link at the bottom of this home page.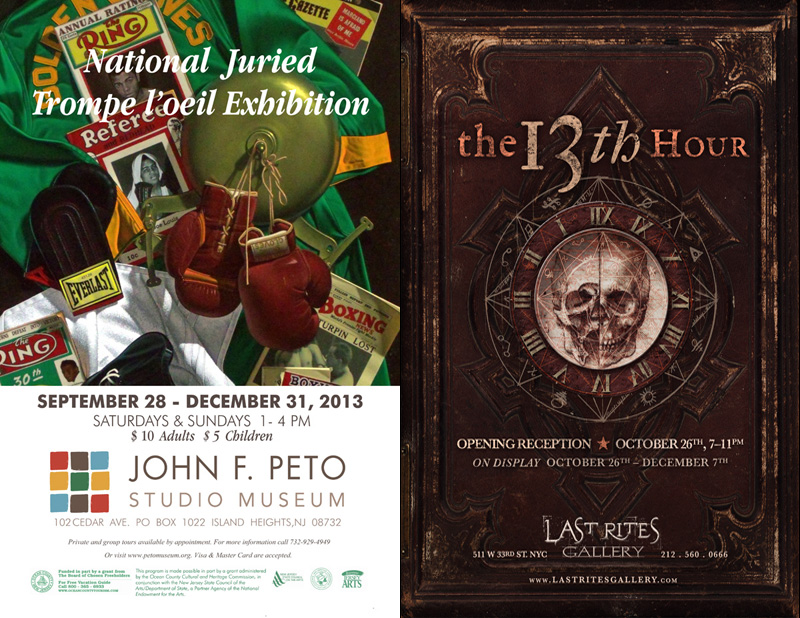 ---
10/17/13

October 2013
With much remorse I have had to cancel my appearance at this year's Evian Tattoo Convention in France, due to some health issues. My apologies to anyone who had signed up for my seminar or was hoping to stop by my booth and see me there. Hopefully next year's show will see my return...
On a positive note, I have some artwork in a few exhibits this fall, both in the Northeast. If you live in that area of the U.S. check these shows out to see some amazing artwork.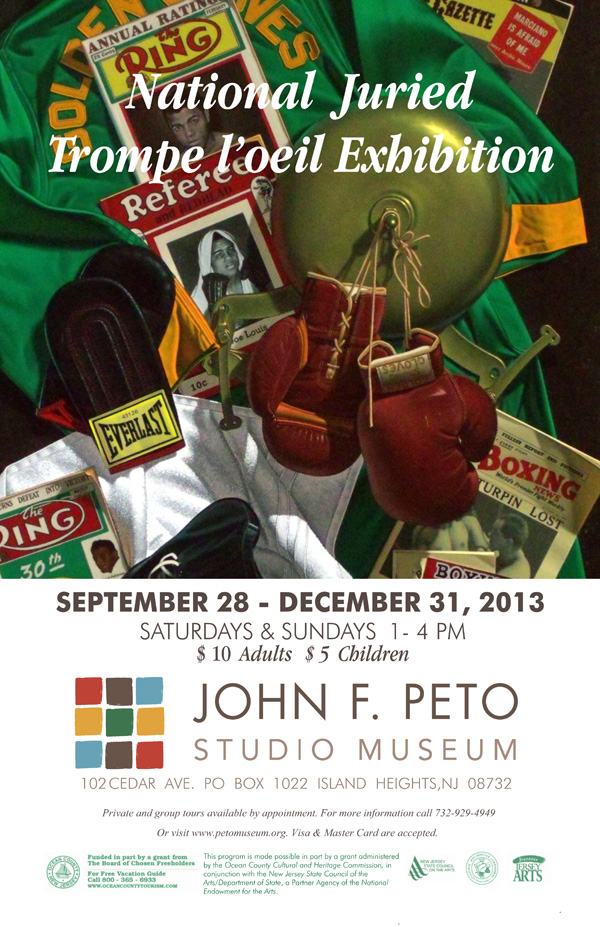 I'm honored to have 2 paintings on display through December at the John F. Peto Museum in New Jersey, as part of their national juried exhibition of "Trompe L'Oeil" art. I also have a brand new painting on display at Last Rites Gallery in NYC, as part of their annual "13th Hour" group exhibition, which opens October 26th.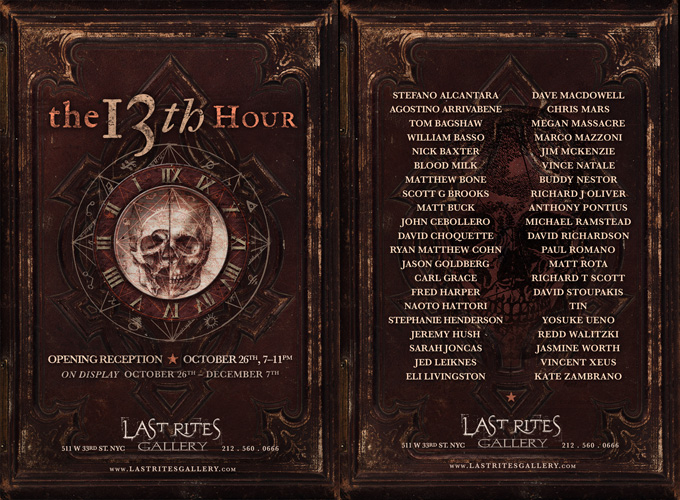 ---
8/29/13

September 2013
Next weekend I will have a painting featured in a charity art show in the Los Angeles area, curated by friend and fellow artist Cody Raiza, who is a passionate animal rights advocate. If you're in the area, check it out and support a good cause!
I've also recently been featured in the art and design journal Creative Quarterly, with a whole page of paintings from my recent series called Apostasy. You can order a copy through the journal's website, or you may be able to find a copy at your local Barnes & Noble or Borders bookstore, as it has fairly thorough national distribution.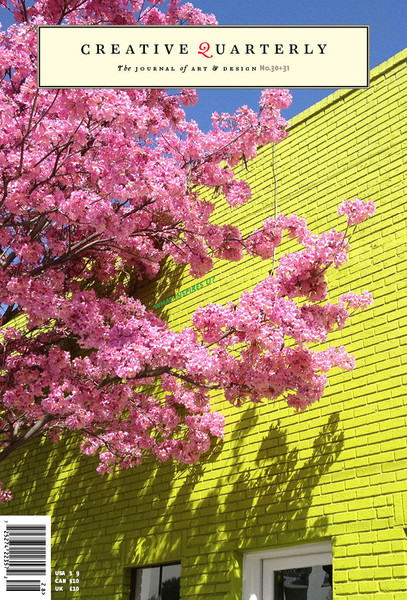 Also just released is the newest issue of Tattoo Culture Magazine, to which I am a regular contributor. For this 3rd edition of the digital magazine I wrote an article investigating the importance of human communication, and how us tattooers can use certain tips and tricks to improve our interactions with our clients, and of course, everyone else in our lives.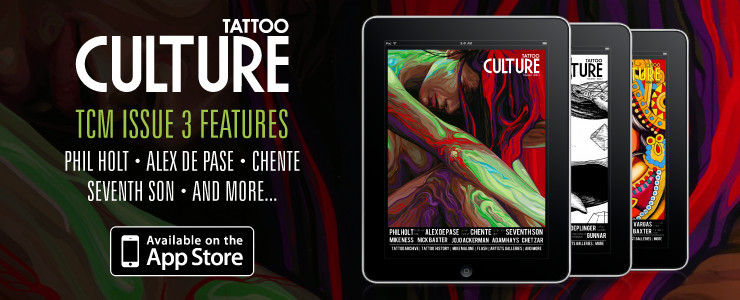 Coming up next month is a return trip to the Evian tattoo convention in France, where I will be teaching my painting seminar the day before the show opens, Thursday October 17th. This seminar explains my approach to realism oil painting, and is aimed at tattooers looking to improve their work through learning a second artistic medium. And fear not, lovely Europeans, it will be fully translated into French by my good friend who is fluently bilingual. You can sign up and get all the information you need right here on the official convention website.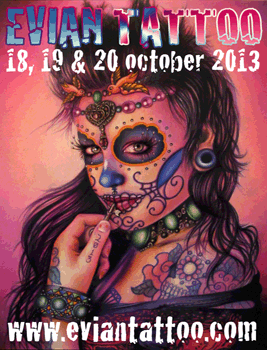 ---
7/6/13

July 2013
Not much happening this month, but I just posted a brand new sleeve to my skin gallery that I'm really excited about.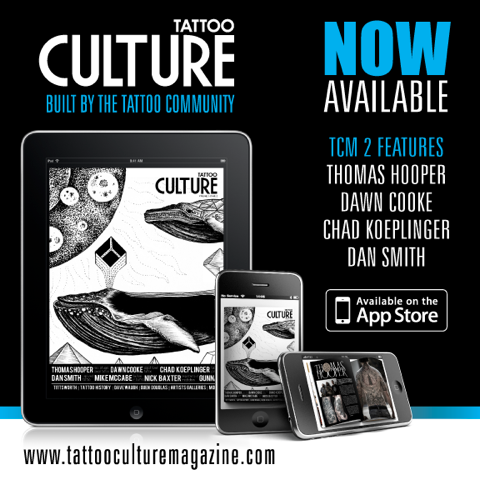 I'm also really excited about the 2nd issue of Tattoo Culture Magazine being available from the iTunes store. I wrote an article about starting a meditation practice for stress relief and artistic insight, which is featured in the issue. This digital format tattoo lifestyle magazine is packed full of great information and entertaining interviews with quality tattoo artists, and really sets the bar high for the level of quality that a tattoo magazine can achieve. Kudos to Crash, Kent, and all at TAM for their efforts. Support them by buying a copy to read on your digital devices!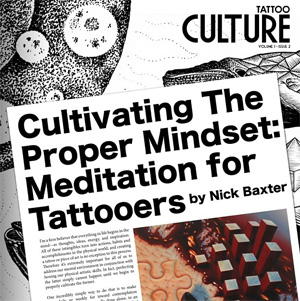 My next event will be the Hell City convention in Phoenix, AZ at the end of August. At the moment it appears I'm fully booked with tattoo appointments, but feel free to stop by my booth early in the weekend and double check. And of course I'll have assorted merchandise for sale, and free stickers available.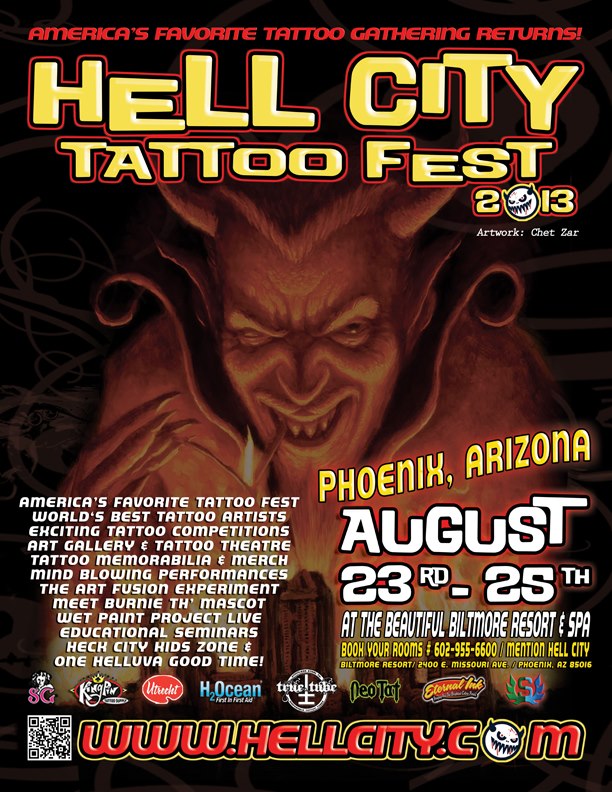 ---
5/18/13

Summer 2013
Just back from a successful and exciting trip to Colombia, where I taught a tattooing seminar in Medellin, made possible by Ramiro at Ganesha Tattoo and of course all the awesome poeple who signed up and attended. South America is an amazing place, I highly encourage any tattooers who'd like to travel and work down there to contact Ramiro and ask him about how to make it happen.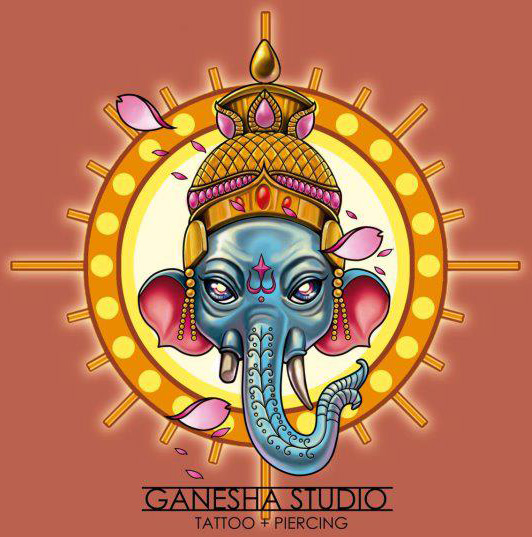 Up next is another seminar, this time at the Worldwide Tattoo Conference in Boston, Massachussetts June 4-5. These intensive 2-day events are packed full of advanced information for the continuing education of tattooers, and in terms of potential long-term benefit to one's tattoo career and creativity, are quite a good investment of time and money. If you're not familiar with this groundbreaking educational effort, which is the brainchild of phenomenal tattooer Alex De Pase, check out the event details here.

After that, not much is in the works until the end of summer, when the next Hell City convention comes to Phoenix, AZ. I'm fully booked with tattoo appointments already, but I'll have assorted merch like books and stickers available for sale and for free.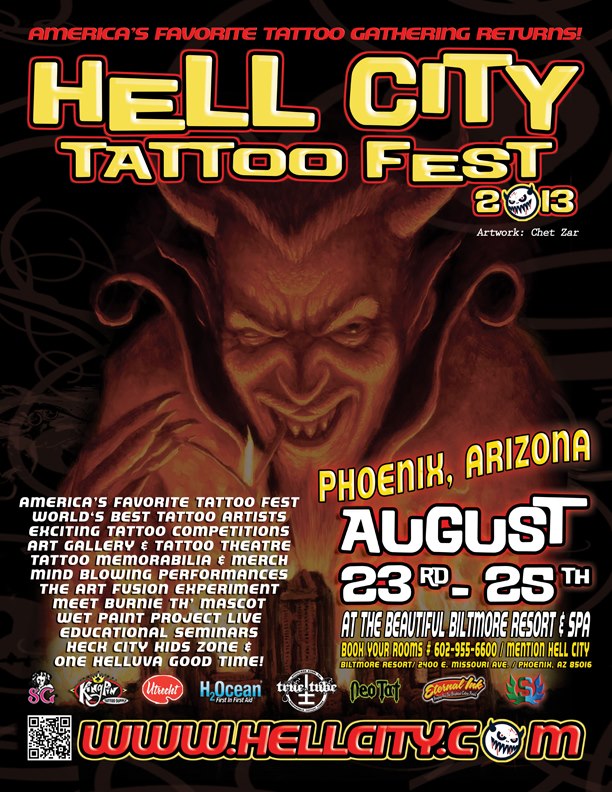 In fine art news, my recent painting "Anointing" was chosen as a finalist for the upcoming International ARC Salon Catalogue, which you can now buy from the Art Renewal Center's website. This yearly competition and printed catalogue represents some of the best in realism art from around the world, and I'm flattered to be chosen for the 2nd straight year.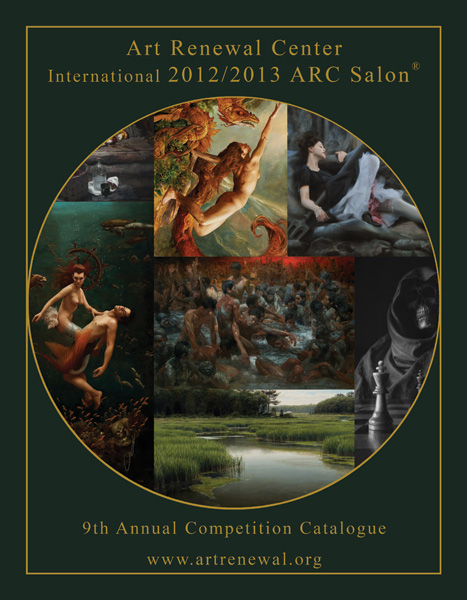 ---
4/2/13

April 2013
This spring is shaping up to be really busy. Paradise Artist Retreat was relaxing and amazing as usual. Thanks to all the cool people I got to hang out and paint with, or who took my seminar, or bought merch. I now have only one of my "What Love Is" prints left...anyone interested? If so, send me an email.
This month I'll have a painting in the Last Rites Gallery 5th Anniversary show, and I'm honored to be included. I've held 2 solo exhibitions of my artwork there, and they've been really good to me each time. If you're in the Northeast this month, be sure to stop by and check out their eclectic group show featuring quite an impressive roster of artists.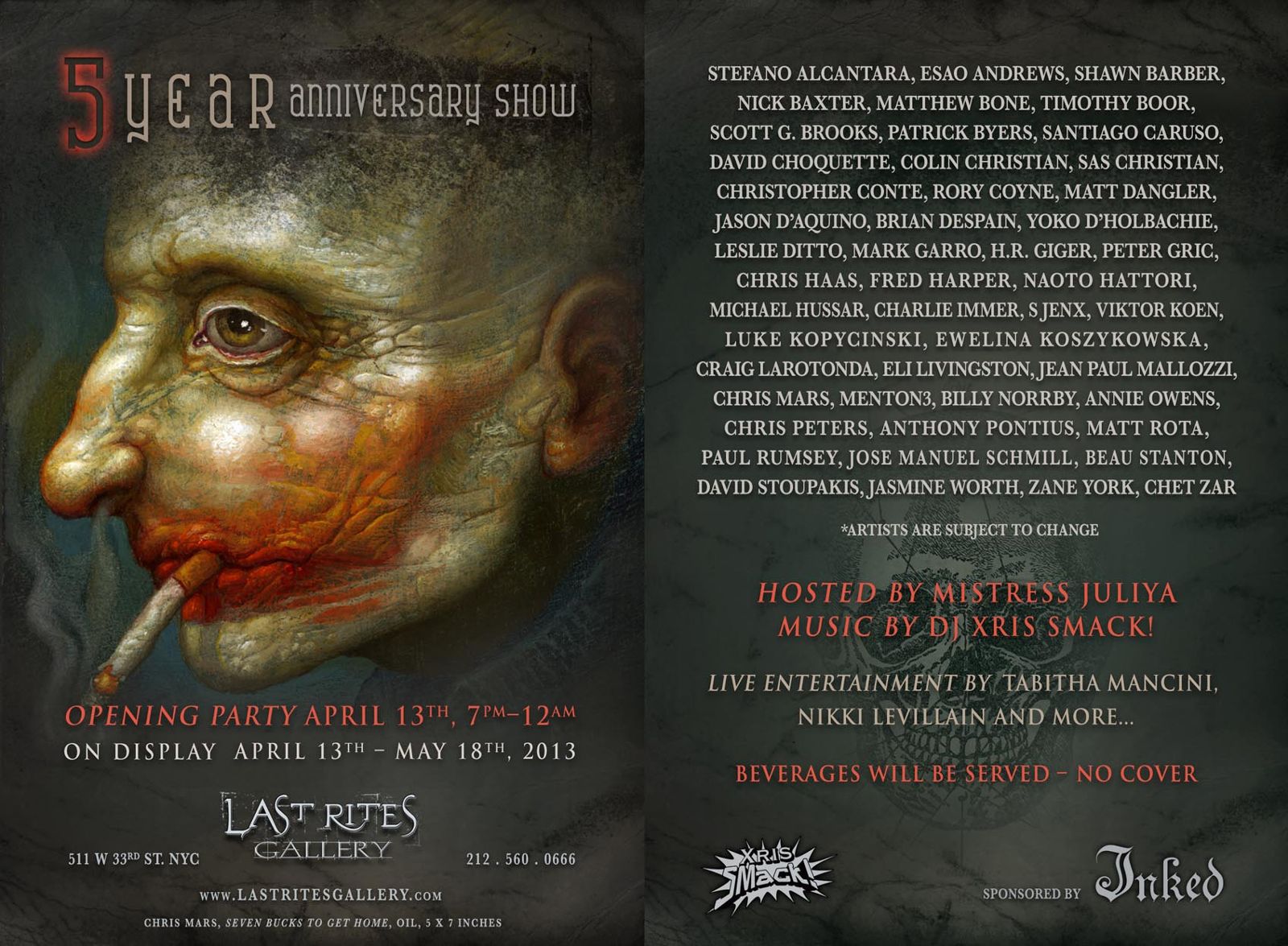 After that is Hell City, one of the best tattoo conventions on the planet. Though I'm already booked for tattoo appointments, stop by the booth I'm sharing with my old friend Adrian Dominic and pick up some free stickers, or check out the other merch I'll have on hand, including my painting book.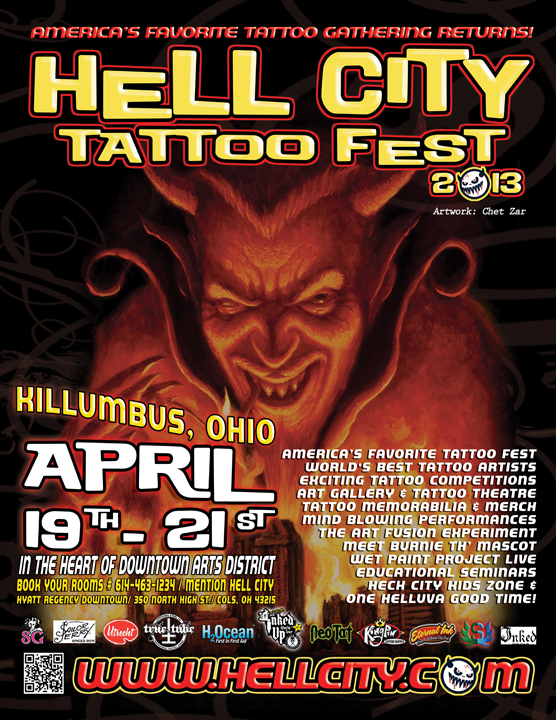 Then in early May I'm headed to South America to teach a tattooing seminar which will be translated into Spanish: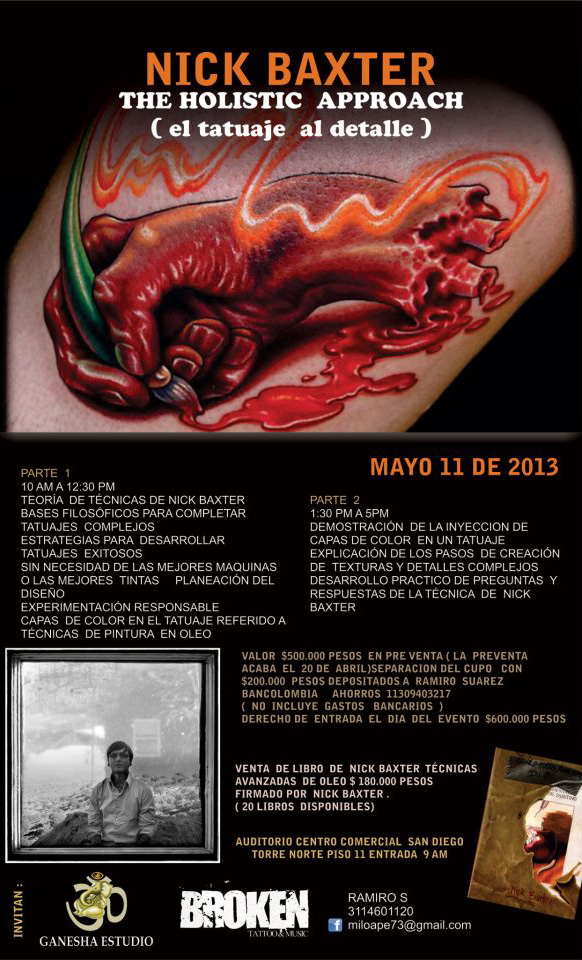 If you hadn't already heard, the 8 Arms Of Inspiration book is out now, and a portion of the profits from the newest Memento Publishing/OOS effort are being donated to charity. This book is huge and gorgeous, and features a few of my octopus tattoos from past years.
As always, thanks for looking, and stay tuned for more announcements soon. Enjoy the new growth and fresh air of Spring...
---
3/7/13

March 2013
One of my favorite events of the year is just a few weeks away, the Paradise Artist Retreat. This year's installment will be in a gorgeous high desert setting outside of Albuquerque, New Mexico, the "land of enchantment." If you're a tattooer looking to push yourself artistically, or just interested in taking some art classes and relaxing in an inspiring, creative group environment for a days, check out the event website and get your passes. It is well worth the investment.

Also happening this month is a very interesting art exhibit in Chicago celebrating the anatomical art of Pauline Lariviere by pairing her works with those of several contemporary artists. I'm honored that 3 of my recent paintings depicting surgical scenes will be featured in the show. Sadly I wont be able to make it in person, but if you're in that part of the U.S., be sure to check it out, as it's only up for a limited time.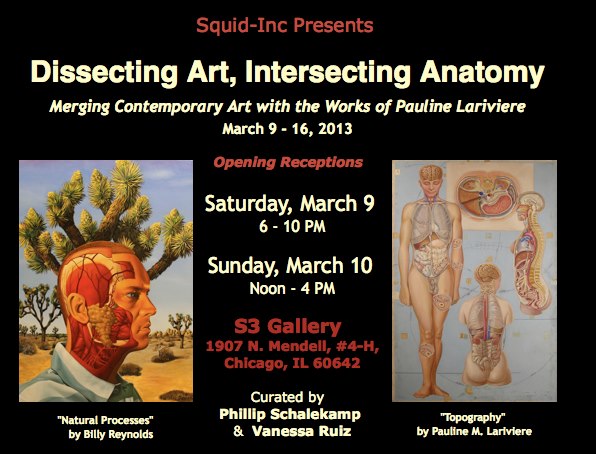 A few submissions have recently arrived for my international translation project, How To Critique Art, and I can't thank the generous people helping out with this nearly enough for their hard work and belief in the cause of free information and learning for the worldwide tattoo community. Check out all the downloadable files here, the latest ones are in Norwegian and Danish! Freedom of information for the information age! Spread the word!
As many of you may know, 2012 marked the beginning of my sister-site, www.nbaxter.com which focuses exclusively on my paintings and fine art musings. At the start of this year, I added a newsletter feature to that site, so please head over there and sign up for occasional updates on what's happening in my non-tattoo pursuits.
Speaking of fine art pursuits, I've recently produced a very limited set of 10 archival giclee prints of my popular 2011 painting titled "What Love Is", which I am now selling through mail-order for $100 each plus $20 shipping (includes shipping tube). I've never yet done multiple editions of a print, in order to add collector's value to the limited number produced, so get on these before they're gone forever. Email me for more details, or to order one.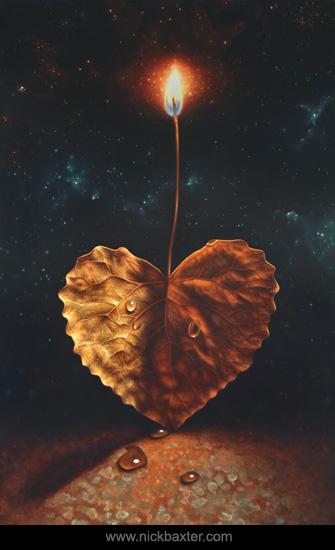 Later in the spring I'll be headed to Ohio for the Hell City Tattoo Festival, and then down to Medellin, Colombia to teach my Holistic Tattooing seminar on May 11th, with translation into Spanish by my good friend Ramiro. If you're in South america and would like to register, please send him a message here.
---
12/30/12

January 2013
Happy new year to everyone! May we all enjoy success in our continuing endeavors, and a progression in awareness, happiness, and health from an individual level to a global scale.
Just released this month is the 8th International 2011-12 ARC Salon Catalogue, where a painting of mine is featured on page 92! For more information on this, including how to order a copy of your own, see my recent blog post on my other website.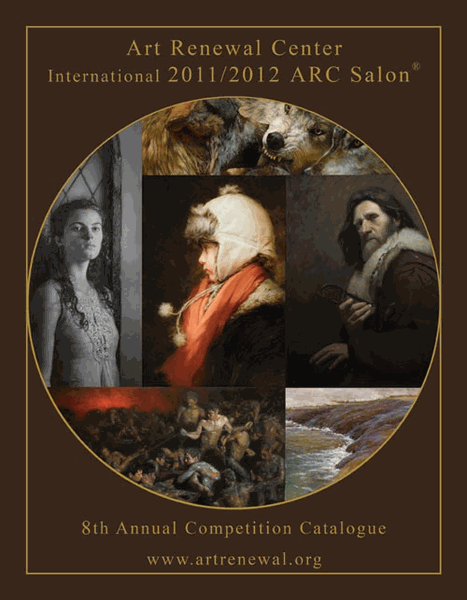 Also new this month is a completed sleeve I just posted to the 'skin' gallery.
Looking ahead, the Paradise Artist Retreat is coming up in March, and I will be teaching a painting seminar there. If you'd like to attend, check out the event website for more info, and get ready to learn and be inspired!

Also coming up is the release of Tattoo Culture Magazine, which I wrote about in my last update. Be sure to support this truly authentic tattoo lifestyle magazine, and check out my article in the debut edition.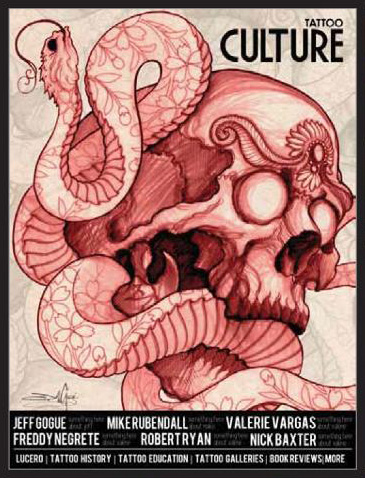 ---
11/25/12

December 2012
For all you tattoo fans and artists out there, I have great news from the folks at Tattoo Artist Magazine, where I've been a recent blog contributor. They're set to launch a new project (which I'll be contributing to also), and here's their description of what it entails:
"Tattoo Culture Magazine is a digital product available soon on iPad, Nook, Kindle, iPhone, Android, and all smart phones and tablet devices, in addition to an online version available around the web and our soon-to-be-launched community website. Issue #1 is a whopping 250+pages and features the amazing work of Jeff Gogué, Mike Rubendall, Valerie Vargas, Freddy Negrete, Robert Ryan, an editorial on the musical act Lucero, along with numerous articles & columns contributed by dedicated tattoo artists (& friends)!
"Tattoo Culture Magazine is set to launch soon and we want YOUR help to make a difference. We are creating a project to represent the authentic voice of the tattoo industry, developed from the inside out by the true experts of the tattoo world, the tattooers! As such, TCM is inviting professional tattoo artists (along with friends and exceptional fans) from around the world to get involved. We need your voice!"
For more info on how to download or contribute, visit www.tattooculturemagazine.com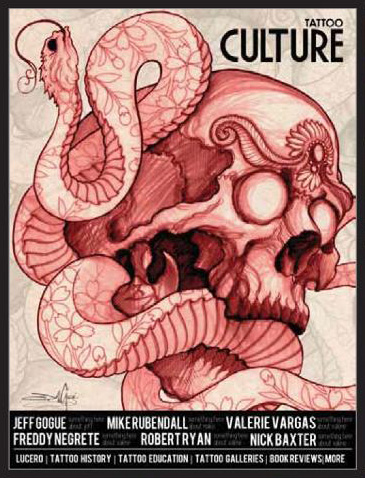 Well, it's that time of year again...when I start posting about consumerism and Buy Nothing Day. The Adbusters foundation, who started this anti-holiday, have summed it up beautifully:
"Until we challenge the entrenched values of capitalism–that the economy must always keep growing, that consumer wants must always be satisfied, that immediate gratification is imperative–we're not going to be able to fix the gigantic psycho-financial-eco crisis of our time."
"The collective journey towards a sane sustainable future begins on a deeply personal and individual level with a single, voluntary step": make a vow to yourself to stage your own Buy Nothing Day sometime--or many times!!--this year. November 23 ("Black Friday"), was the official Buy Nothing Day, but obviously we can begin to bring awareness to our unthinking or excessive and harmful consumption patterns at any time, on any day. The recent tragedies and devastation caused by the "superstorm" Sandy have, in this way, reminded many of what's truly important. So if you're in the mood for giving this holiday season consider helping out the storm relief volunteers of the Occupy movement here, or support any other of the important causes of our country, like the activists trying to stop the construction of the risky, dirty oil pipeline called Keystone XL.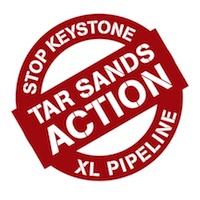 Besides those announcements, there isn't too much going on at the moment--for once! A few new tattoos have been posted to the skin gallery in recent weeks, but otherwise I'm just gearing up for next year, where I'll be teaching at a few events and tattooing at a few conventions both in the U.S. and abroad. One of my favorites comes up in March, the Paradise Artist Retreat.
---
9/21/12

September/October 2012
I recently returned from another amazing Paradise Tattoo Gathering (in Colorado this time), and now getting ready for the next up: Evian Tattoo Convention in France, later in October. As of now I am fully booked for tattoo appointments, but I'll have plenty of merchandise like fine art prints, painting books, stickers and postcards.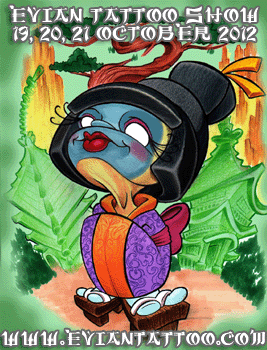 Attention: iPad users! I've been included in a project called Artbook Archive. This ever-expanding digital product is national in scope, featuring unique editions for several major U.S. cities, which showcase working fine artists in each locale. Essentially, it's a digital "coffee table book of art." I'm honored to be included in the Austin edition. You can download the app in the iTunes store, then make an "In-App Purchase" of Artbook Austin for $2, to see my paintings and artist profile on your fancy device.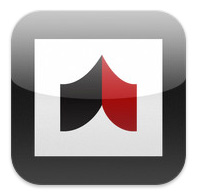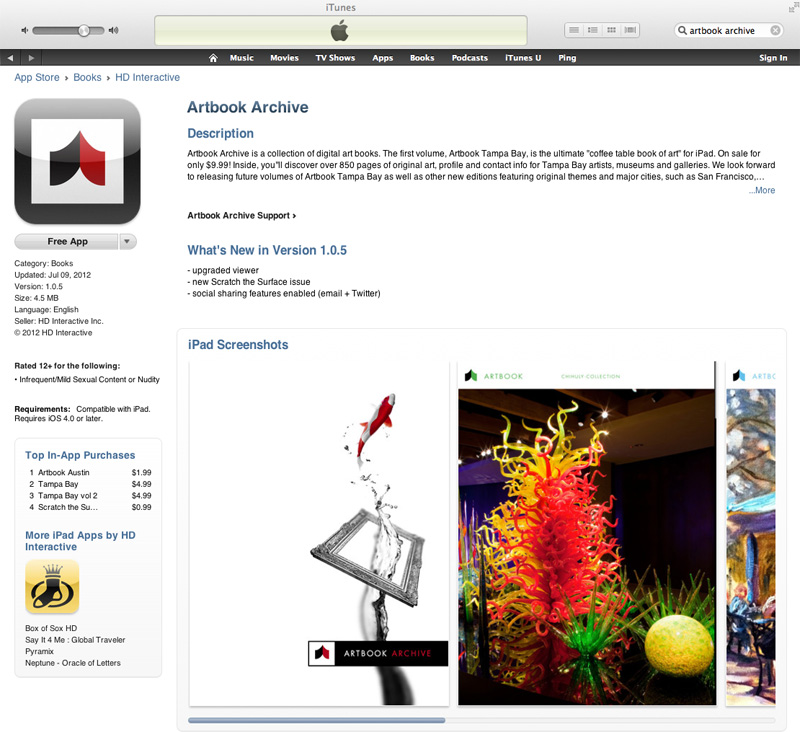 In non art-related news, regarding a cause that's very important to me: tomorrow is a national day of action against fracking, which if you don't know, is the method that irresponsible energy and oil corporations are using to extract natural gas from underneath our homes and lands. It is a toxic, carcinogenic, dangerous ordeal being whitewashed in the media by politicians and business as "clean, safe, affordable." Maybe you've seen the recent TV commercials? These couldnt be farther from the truth: communities all over the U.S. are being polluted, wild animals are dying, and poeple are getting sick. As public opinion turns against foreign oil dependence and foreign wars, this will become the next hot energy debate here at home. Educate yourself at this attractive and clever website, and see if you are personally at risk.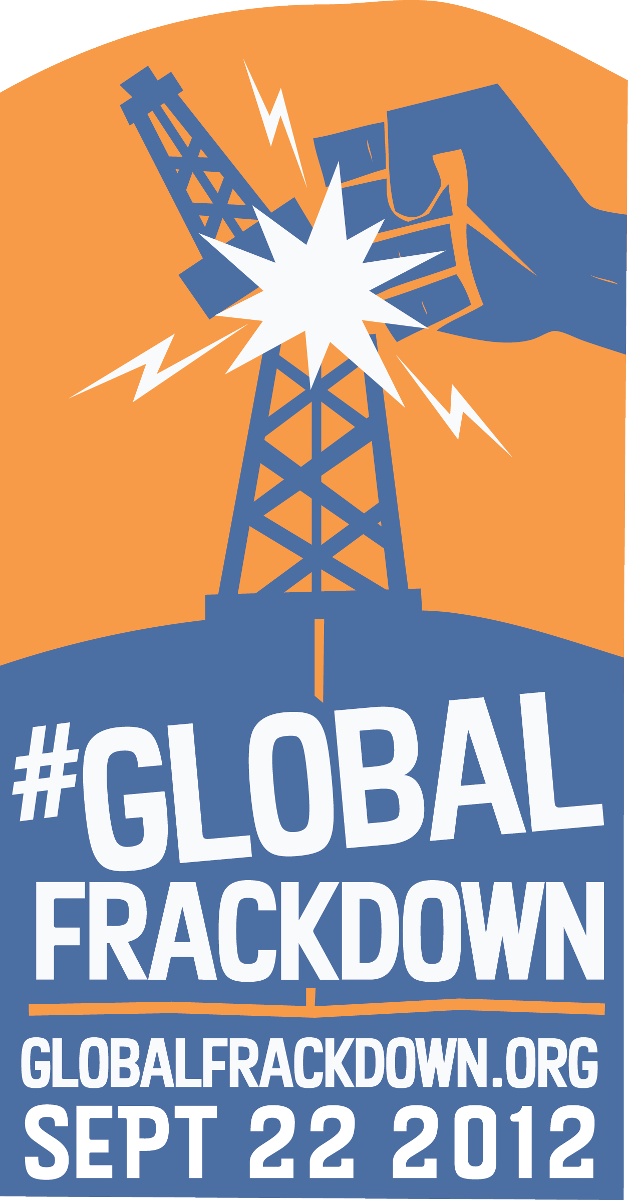 ---
8/28/12

September 2012
I recently returned from quite an epic adventure in Ecuador, where I worked at the 1st annual international tattoo convention there. It was a great show, and I have to thank my awesome tattoo clients and my friends Karla, Alejandro, and Ramiro whose generous help and South American hospitality made my experience a good one.
Up next is the Paradise Tattoo Gathering in Keystone, Colorado. Due to some recent changes in plans, I'm leaving my tattoo schedule pretty loose for this one, and I may have time available for walk-ups at the show. Feel free to inquire if you see me there, and stop by the booth to pick up some brand new stickers and postcards.
In other tattoo-related news, I've made an extensive portfolio of my tattoos available for free to all Mac Ipad users, through blurb.com. This download requires a blurb site account, but that is also free. You can access the tattoo portfolio ebook here. The tattoos shown in this effort span the last 10 years of my career, and are presented in a classy gallery catalogue format, with thought-provoking quotes relating to the symbolism of certain works.
New to the website this month are two translations of the article Evaluating Art: The Principles of Critique co-authored by Teresa Sharpe and I last year. There is still an open call for any international citizens of planet Earth who are English bilingual, to contribute a translation in your language of specialty. As thanks, I can offer various free merchandise, but this is a totally not-for-profit project in the spirit of education and sharing among all of the world's cultures and tattoo scenes. Thanks to the generous people who provided the French and German translations now posted. If anyone reading this has tattoo artist friends who only speak either of those languages, let them know about this free resource!
On the topic of writing projects, check out the feature article I wrote for TAMBlog last month, if you missed it in my last site update.
On the fine arts side of things, I have two recent photographs included in a group show this month at the Williamsburg Art & Historical Center in Brooklyn, NYC, called "Wildlife in the Post-Natural Age." This thoughtful and gorgeous collection of work, featuring several renowned contemporary artists (who I'm humbled to be showing alongside), was curated by my talented friend Cara DeAngelis, whose work you can check out here. If you're in the Northeast and have any interest in ecology or environmentalism, this show is worth checking out.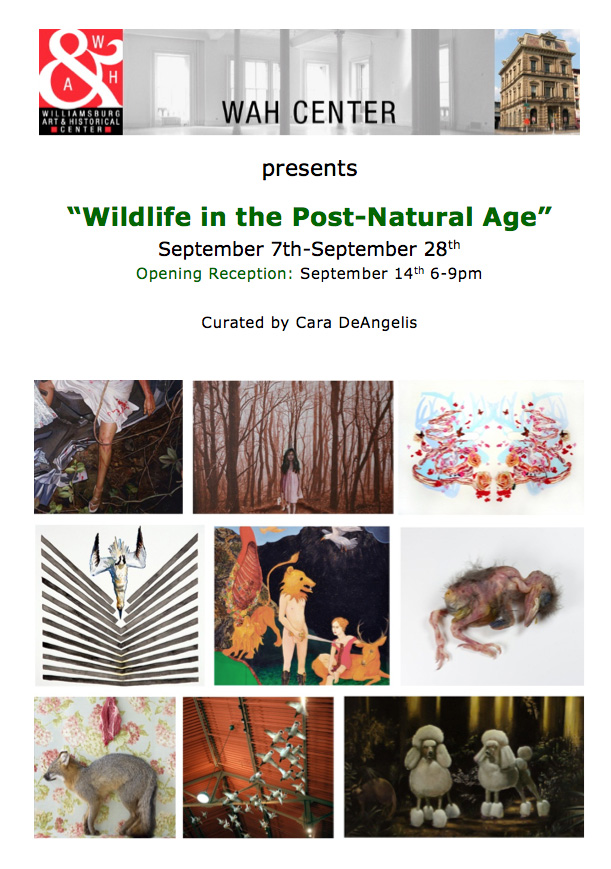 ---
7/23/12

July 2012
Hello everyone, this summer's been a busy one for me. For the past month I've been working on a "blog mini-series" project with Crash and John from Tattoo Artist Magazine. This is an experiment utilizing the magazine's online outlet, TAMblog, to create dialogue throughout the tattoo industry, based on an in-depth motivational essay I recently wrote. This piece explains several strategies for self-improvement, based on my core beliefs and practices that have helped me become a successful tattooer and artist. Each day this week, a new part of the essay will be posted on the blog, culminating on Saturday with the conclusion and what we hope will be discussion or inspiration. Check out Part 1 here, and check back to the TAMblog for the links to all the other parts.
The TAMblog is turning into a great resource, as Crash has been recruiting more people from our industry to participate with essays and interviews on a variety of topics. They've been re-posting selected entries from my own fine art blog on occasion, and in addition to the "mini-series" I mentioned above, this month also features a very candid interview they conducted with me about the health concerns I deal with from being a tattooer. Many useful topics were covered in this interview, and I was very honest in my responses regarding various lifestyle changes and personal struggles I've gone through, as part of my ongoing health and fitness journey. Read it here.

Through August 4th is an amazing tattooers-only group art show called Second Skin, at Copro Gallery in California, curated by renowned dark pop-surrealist Chet Zar. See my previous site update for the flyer. Many thanks to Chet for organizing that show and spearheading the entire effort. The work submitted was an impressive display of the talent within our industry today, and I was honored to be included.
In other art news, I had a painting accepted into the 2011/2012 International Salon Catalogue, a juried publication of the Art Renewal Center, a group devoted to preserving the traditions of academic realism in the arts. I'm incredibly honored to be included with such an amazing group of realism artists from around the world. You can buy copies of the book here.

Lastly for now, in about a week I'll be in Ecuador tattooing at their first ever international tattoo convention. For anyone in that part of the world, come say hello. It looks like tattoo appointments are full for now, but I'll have my painting books for sale.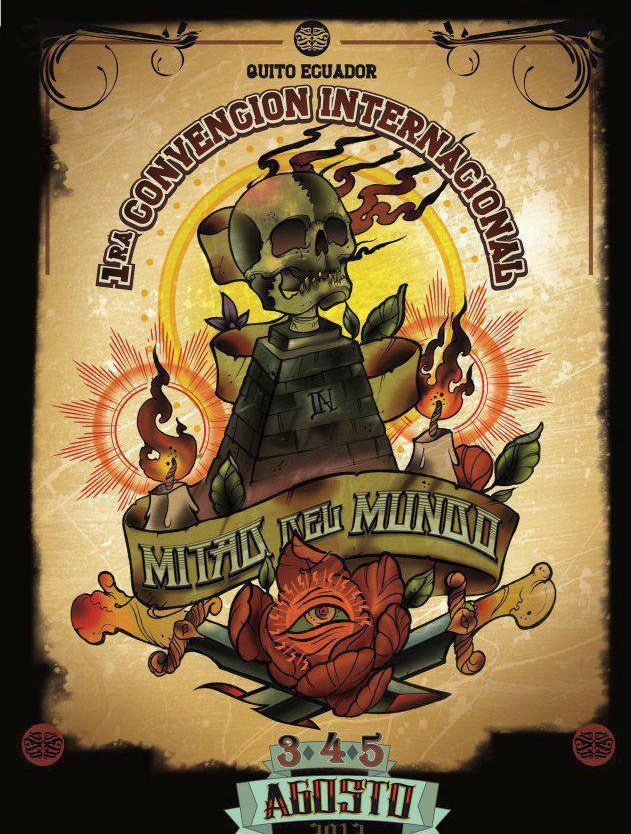 ---
7/11/12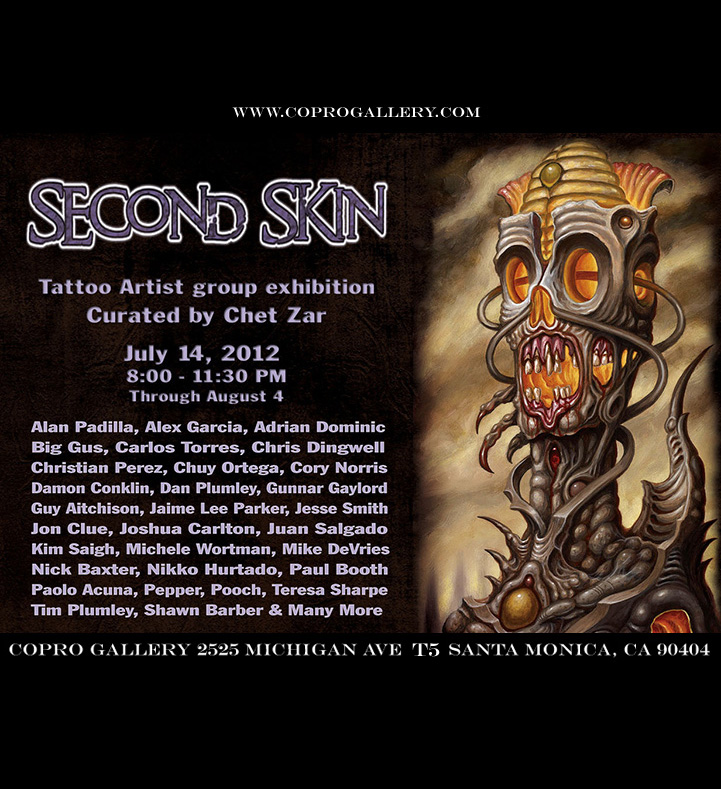 ---
6/4/12

June 2012
Thanks to everyone who came out to my art opening at Last Rites Gallery on Memorial Day weekend in NYC, and a special thanks to those who bought paintings. Your support is much appreciated. I'll be posting all of the paintings to this site and my fine art site soon, but for now you can check them out here.
Next up for this month is a group show to benefit the kind people working to save wildlife in Africa from poaching and related horrors. Naturally I'm stoked on this amazing cause and flattered to be included with a great group of artists. All of the proceeds go towards the cause, so it's a win/win situation for all, if anyone buys a piece from any of the artists.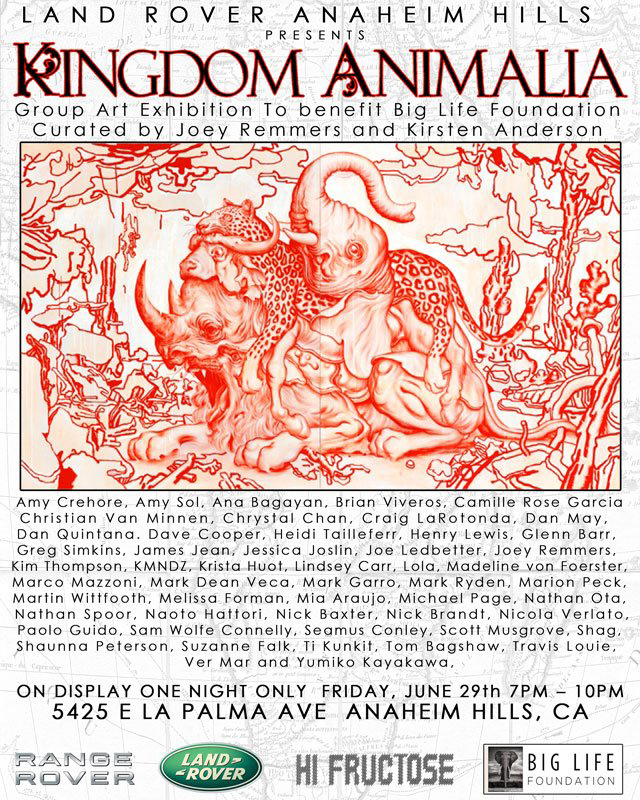 I also just recieved notice that I'm a finalist for the 2012 ARC Salon Competition, with at least one painting from my newest series "Apostasy" being chosen for inclusion in this prestigious yearly catalogue. The final judging happens soon, so here's hoping I win something in one of the categories! For those who aren't familair this contest is run by the Art Renewal Center, a fine arts advocacy group devoted to promoting and maintaining the integrity of the representational and realist arts. You can read all about their mission on their site, and if you too are baffled by what poses as "art" in the contemporary art world and museums nowadays, I highly recommend checking out their poignant analysis and supporting their efforts.

Lastly this month, there's been a few new tattoos added to the skin gallery--some recent projects have finally been finished, with one or two more on the way soon. Stay tuned for some upcoming travel announcements and updates on some writing and educational projects I have underway. Enjoy the summer!
---
5/1/12

May 2012
Just home from another amazing trip to Australia. Many thanks to the people I tattooed, or who bought my book, to fellow tattooer and travel companion Melis, and our generous host Gregos.
Unfortunately, just returning from that trip with more preparation to do for my upcoming exhibition at Last Rites Gallery means no Hell City Tattoo Festival for me this year. It's definitely one of the best conventions in the States, and this year's 10th anniversary features an inspiring project being put forth by my good friend Adrian Dominic.

Adrian is seizing the popularity of Hell City and the generosity of the tattoo community to raise $20,000 for SmileTrain, a nonprofit organization dedicated to providing reconstructive surgeries for children born with cleft palette facial deformities. Support Adrian's noble and incredibly generous fundraiser by donating what you can, either at Hell City or through Paypal. Read more info on how to do that here.
Lastly, as previously mentioned, I'm debuting a new series of paintings in a few weeks at Last Rites Gallery. If you're in the New England-area, stop by the opening reception on May 26th!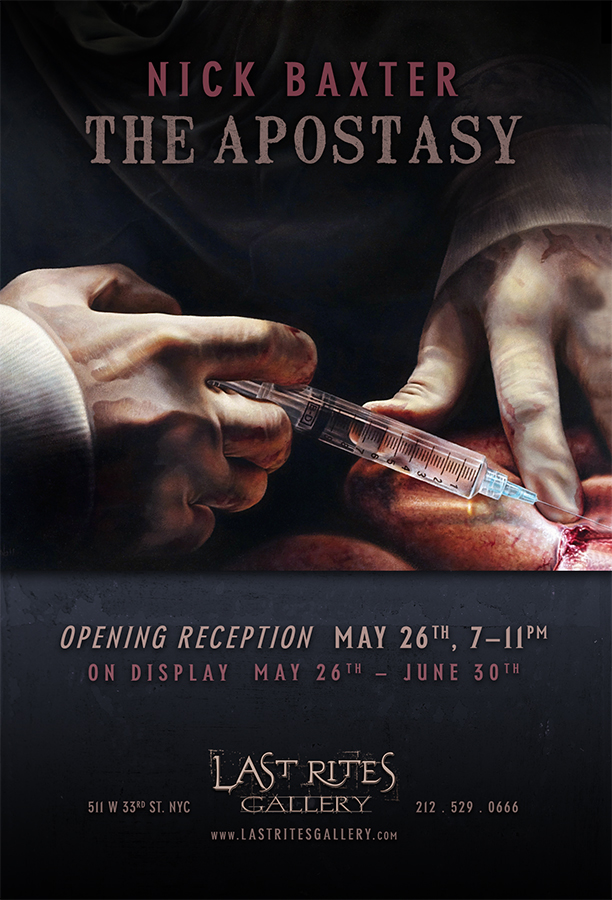 ---
4/12/12

April 2012
Thanks once again to all the great people at the Worldwide Tattoo Conference this week in Chicago. I had a good time, and I'm sorry about the voice troubles! I didn't feel 100% while taking the stage for my presentation, and managed to forget what I was saying once or twice during the talk while speaking with an increasingly hoarse voice. It wasn't the easiest thing to do while suffering from some untimely sinus and throat problems, but the positive attitudes of everyone there helped me push through it before my voice completely gave out. I sincerely hope you all found some benefit and insight from it despite the minor difficulties!
At the end of this month I'll be in Melbourne, Australia for the amazing Rites Of Passage tattoo convention. I'll be selling my painting books there, but unfortuantely I'm already booked for tattoo appointments.

This ambitious event, organized by Claire Reed, really comes from the heart and aims to be more than just tattoos and commerce. Proceeds are donated to various charities, and through the entertainment at the event, a strong focus is placed on important issues such as environmentalism and indigenous rights. Kudos once again to Claire and her team for thinking outside the tattoo industry box and connecting what we do to the importance of life as a whole.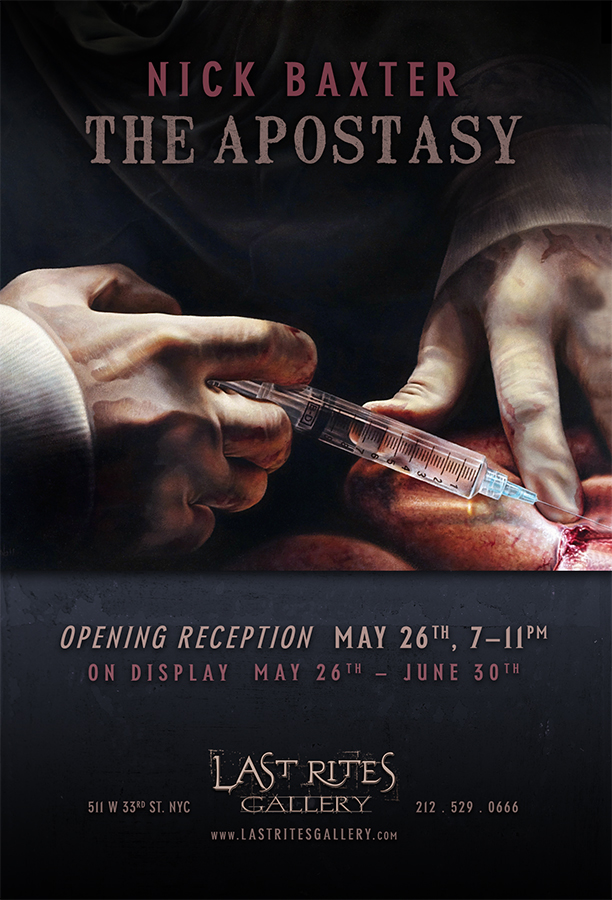 ---
3/13/12

March 2012
Just posted to the site this month is a new sleeve that I'm completely thrilled about. Check it out in the skin gallery. Coincidentally, this project segues nicely into a few other announcements for the month:
First on the list is my upcoming seminar in Chicago at the Worldwide Tattoo Conference hosted by Alex De Pase and TattooNow. This is a traveling event aimed at continuing education for the tattoo community--the first one held in Rome last year was a tremedous success, with rave reviews of the material myself and the other teachers presented. My presentation focuses on building the mindset and life-skills needed to form a complex "holistic approach" to your tattoo art, and the newly completed sleeve mentioned above will be among the examples broken down during my talk. I'll dig into the layering process used in crating the lifelike textures in the tattoo, and for those who've already seen me speak at other events, rest assured my presentation is continually evolving, and never the exact same thing twice.

Secondly, the client who now wears the aforementioned tattoo is an excellent freelance web designer who recently brought to life my new sister site www.nbaxter.com. This website will focus solely on fine art painting side of my career, so that anyone not interested in tattoos can have a quick and easy way to view my other work. However, this site features an art-focused blog which will be of benefit to all creative types including tattooers, so check back frequently for new and useful content!

The final bit of news this month is my upcoming trip to Melbourne, Australia for the amazing Rites Of Passage tattoo convention. I'll be selling my painting books there, but unfortuantely I'm already booked for tattoo appointments. This ambitious event, organized by Claire Reed, really comes from the heart and aims to be more than just tattoos and commerce. Proceeds are donated to various charities, and through the entertainment at the event, a strong focus is placed on important issues such as environmentalism and indigenous rights. Kudos once again to Claire and her team for thinking outside the tattoo industry box and connecting what we do to the importance of life as a whole.
P.S.-- Coming later in the Spring will be a totally free, downloadable version of my how-to article on the critique of art, completely translated into French. I'm hoping to spread this knowledge throughout the world tattoo community in order to help and inspire us all to continue our artistic growth, and towards that end, I'm currently looking for the generous help of some Spanish and other bilingual people to undertake translations into more languages. Please contact me if you're interested in helping this project grow!
---
2/6/12

February 2012
The Paradise Artist Retreat is now just 2 weeks away. If you're a tattooer or artist, don't sleep on this amazing opportunity to enrich your skills in a vacation atmosphere. I'll be running a few portfolio critique sessions, and teaching a seminar about the secrets of glazing and layering with oil paint. So come study, learn and create art with us amidst the peacefulness of the New Mexico desert. it should be a really unique experience, as last year's event proved--very different from the typical tattoo convention scene. Buy your artist pass here.

This month I'm also a participant in a collaboraitve ArtFusion event hosted by Last Rites Gallery in NYC. Though unfortunately I will not be at the event, I was one of several artists selected to contribute a drawing foundation for a painting through the mail. This will be completed at the event by a team of incredible artists, then auctioned for charity. Get more info here.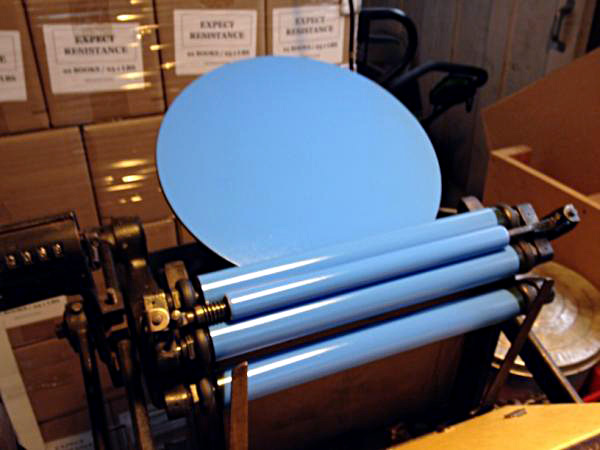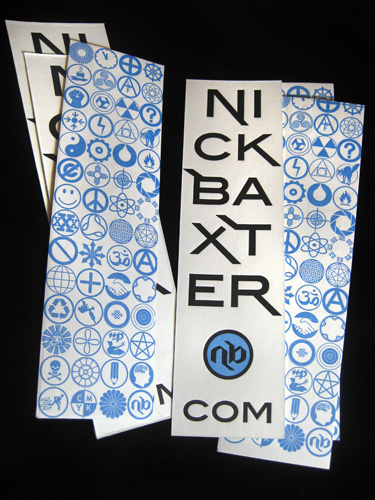 Around the new year I received a welcome package from my friends at the CrimethInc. Far East HQ in Oregon, containing a new batch of super limited edition bookmarks to promote the recent relaunch of this website. These were gorgeously hand-printed using an old-fashioned press, on thick archival cardstock, and feature my new logo and a backing of circular symbols representing the cultural memes that I and my artwork stand for. This assemblage of symbols tells the story of my personal paradigm and the awareness I promote through my creation of visual images. Reminiscent of Egyptian heiroglyphs and other symbolic ancient stone carvings, and created in homage to that primal human tradition of coomunication through sybmbols, I call this the NB Metameme. These weren't cheap to print, but they're not cost-effective enough to sell through mail-order, so unfortunately they'll only be available if you see me in person at an event, for a small donation while supplies last.
Also just released are the impressive art books Animal Ink and 2012: The End Is Here, both published by various friends of mine and featuring tattoos, artwork, and writing by yours truly. Order each through their respective links above.
---
12/8/11

December 2011
Welcome to the all-new website design, just in time to start the new year! I'm very excited to unveil the new look, and I hope you all find it eye-pleasing and easier to use than the former version. Thanks to the people at TattooNow, of course, for the programming work to make it happen.
To coincide with the site re-deisgn, almost every part of the site has been updated with new content, and the old content has been cleaned up and improved wherever possible. This means there's new articles in every part of the "thought" section, including fixes to broken links, an updated FAQ, and a new and improved version of my tattoo healing instructions and pain mangement tips.
The "commodity" section now features an easy link to buy my oil-painting book, which is almost sold out of its deluxe hardcover first printing. If you don't have one yet, and are into the collectibility of the limited deluxe run, make sure you get on that before they're gone forever!
Lastly, there's one new tattoo up in the "skin" gallery, and the oldest tattoo images, posted way back when I was just a rookie at Darkside Tattoo, are now fully viewable again after being broken for some time. So you can now take a trip down memory lane and see my tattooing evolution through these 10 long years much more clearly.

And just another reminder about the upcoming Paradise Artist Retreat in February. If you're a tattooer or artist, this event is money well-spent, an amazing opportunity to enrich your skills in a vacation atmosphere. I'll be running a few portfolio critique sessions, and teaching a seminar about the secrets of glazing and layering with oil paint. So come study, learn and create art with us amidst the peacefulness of the New Mexico desert. it should be a really unique experience, as last year's event proved--very different from the typical tattoo convention scene. Get more info here.
Thank you all for your continued support, and for browsing the new site. Stay tuned for more big announcements about events and art plans for 2012!
---
11/11/11

NOVEMBER 2011
I owe a huge belated thank you to Alex DePase, his crew, and all the awesome attendees of the Worldwide Tattoo Conference last month in Rome. It was a memorable trip, and the reception of the knowledge that i came to share was truly flattering and inspiring.

Now that I'm home again for a while, it's back to work on a few ongoing projects, and presenting my paintings as part of the East Austin Studio Tour which happens this weekend and next. If you're in the Austin area and want to spend a day or two looking at the incredible variety of fine arts creativity happening in Austin's East Side, check out the event website for all the info you need.
I'll be at my studio during both weekends of the E.A.S.T. tour, working on a new series of paintings I'll be exhibiting this spring at the amazing Last Rites Gallery in NYC, where just last month I participated in the 13th Hour exhibit. Stay tuned for updates on my next exhibition in the coming months.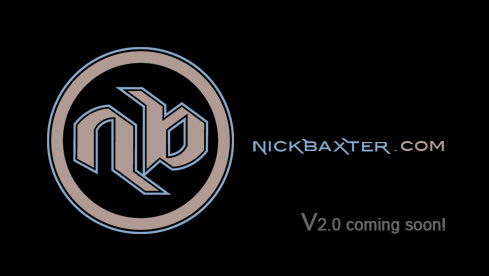 Another project in the works is a brand new version of this here website. After over 10 years of the current design, it's time for an overhaul and re-launch, to coincide with the launch of my upcoming sister website, which will focus exclusively on my paintings and gallery happenings. Expect to see all of that, and perhaps a few gitches as the shift is made, by the end of the year.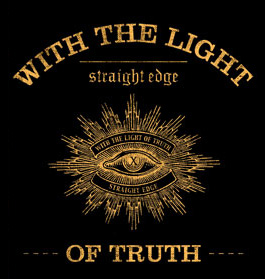 This past year i had the honor of being one of the artists featured in a book about tattooing and the cultural phenomenon known as Straight Edge: a strict adherence ot a drug, alcohol, and intoxication-free lifestyle. Although the focus of the book is very specific, it's a great collection of tattooers from around the world who all share the common bond of a drug-free lifestyle, and a rallying point for those in the tattoo community or elsewhere, who often feel alienated after choosing this against-the-grain path. Get more info and order a copy here.
Next year is already shaping up to be really busy, and one of the highlights is the Paradise Artist Retreat in February. If you're a tattooer, come study, learn and create art with us amidst the peacefulness of the New Mexico desert. it should be a really unique experience, as last year's event proved--very different from the typical tattoo convention scene. Get more info here.

---
9/20/11

SEPTEMBER 20, 2011
This year's Paradise Tattoo Gathering was another inspiration-filled weekend of art, learning, and gorgeous mountain views. I'd like to give a special thank you to everyone who attended my Holistic Tattooing seminar, as I'm sure it wasn't easy to have your brain slammed with non-stop information, concepts, and theories for 3 hours. I'll be giving this same talk again in one month, at the Worldwide Tattoo Conference in Rome, Italy, courtesy of Alex De Pase. If you're in Europe, this will be a great opportunity to learn from some of the tattoo industry's best, all in one weekend. Get more info here.

Thanks also to everyone who attended the Evaluating Art seminar I hosted along with Chris Dingwell and Teresa Sharpe at this year's Paradise Gathering. Our goal is to inspire a sense of community and supportive comraderie among tattoo artists, in homage to the craftsman's guilds of yesteryear.
Towards this end, I'm making available to all, free of charge, a 20-page booklet I wrote explaining the principles of how to evaluate art for artistic growth, as well as how to foster a positive critique environment with your peers and colleagues. This text will almost certainly see further development sometime in the future, into something even more comprehensive. But in the anti-copyright, anarchist spirit of community and sharing, the current version is free to all who are willing to read and learn. Thanks to Teresa Sharpe for invaluable help in writing it, and to my other friends who gave feedback and suggestions. Download it here.
Have a good Autumn everybody, and stay tuned for some more art-related announcements in the coming months.
---
9/2/11

SEPTEMBER 2011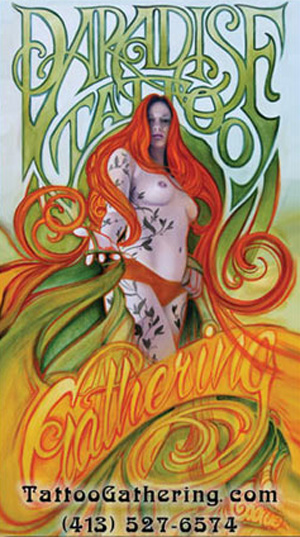 This month I'll be attending the Paradise Tattoo Gathering in Hancock, MA from the 15th-18th. This event has quickly become one of the tattoo industry's best conventions, with its emphasis on art and education. I'll be teaching 2 seminars that weekend, one about how to critique art on Friday, and one about my "holistic approach" to the tattooing process on Sunday. The Holistic Approach is already sold out, but please join the amazing artist Teresa Sharpe and I on Friday for some great advice on how to evaluate yours and others' artwork, in order to keep progressing as an artist. More seminar info can be found here.
Also this month is the 6th annual International Guild Of Realism juried exhibition, which I was fortunate enough to be selected for, from among hundreds of realism artists worldwide. This prestigious show opens on Sept. 30th at Sage Creek Gallery in Santa Fe, New Mexico, and I'm incredibly honored to be included among some of the world's most mind-blowing realist painters. You can find information on that here.

Last month featured the release of a book called "The Art of Sketch Theatre: Vol. 1," which I'm featured in with my contribution to the incredibly fun Sketch Theatre website. You can buy the book and see the time-lapse video of me completing a drawing here.
I hope everyone has a great end of summer, and stay tuned for more announcements about the rest of my 2011 plans...
---
8/2/11

AUGUST 2011
Many thanks to all who checked out my solo exhibition "Reclaiming" at Nisus Gallery in Portland, OR this past month. The opening reception was a great night, and I appreciate all the feedback and reactions I received.
The show is about to come down from the gallery walls, but is now posted in its entirety in my Canvas gallery, along with a brand new painting I completed after returning home from Oregon.
Also added is a 24-page artist statement explaining the themes, symbolism, and inspiration behind each piece from the Reclaiming series. Because of its length, I posted it as a downloadable pdf file in my "Personal Writings" page, free to all. Just give it a few minutes to download, especially if you're on a slower internet connection.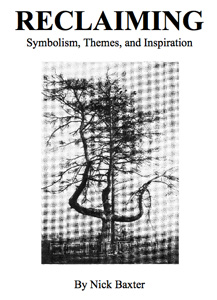 More additions to the galleries this month:
-new graphite and collage piece entitled "Cataclysm" which features an essay explaining its theme, that you can read by clicking on the corresponding link in my "Personal Writings" page. Or just click here.
-new sleeve that's been in the works for almost a year, featuring a biomech-influenced interpretation of "the comeback machine", an ode to everyone who's had to scrape themselves off the ground, dust themselves off, and try again in life.
And lastly, as always, i'll be at the Hell City Tattoo Festival in Phoenix, AZ this year, from August 26th to 28th. It looks like I'm booked up for tattoo appointments as of now, but as many of you know this is a fun convention to attend even if you're not getting tattooed...hopefully I'll see some of you there.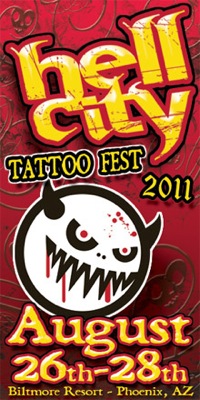 P.S. I just finished devouring the newest offering from my favorite anarchist philosophers and agitators, the CrimethInc. collective, and as usual, my mind will not be the same, ever again. Check it out here.
---
7/1/11

Reclaiming
by Nick Baxter
July 7 – July 30, 2011
328 NW Broadway (at Flanders) #117, Portland, OR 97209
Opening Reception: Thursday, July 7th, 2011 from 6:00 – 9:00 pm
Gallery Hours: Saturdays from 12:00 – 5:00 pm and by appointment
Nisus Gallery is pleased to present Reclaiming, a show of all new works by Nick Baxter. This series of paintings illustrate the recovery of a physical and spiritual connection to the living world. This connection not only supports our existence, but comprises our very bodies and consciousness. Baxter's technical style, which merges the classic trompe l'œil aesthetic with allegorical themes, lets viewers witness this process of reclamation.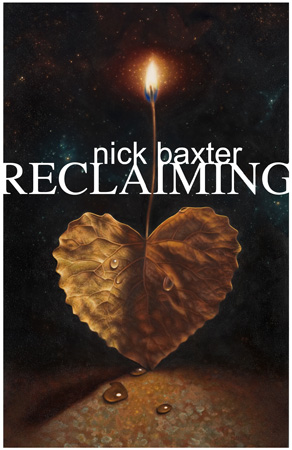 With the occasion of an upcoming holiday celebrating this grand country of ours, here's a must-see video shedding light on some of the overlooked aspects of the "American Dream" and how our current way of life is affecting the planet. May our celebrations and pride not be without awareness and understanding of what's really happening in the world today.
---
5/1/11

MAY 1, 2011
The past few months I haven't had much to update, as I've spent most of my time hibernating in the studio, working feverishly on my latest series of paintings called "Reclaiming." With forays into new subject matter and larger sizes than I've ever painted at before, this new series will carry on the thematic evolution from my last large series of work, "Rebuilding," which itself was a continuation of themes from a prior series titled "Surfacing."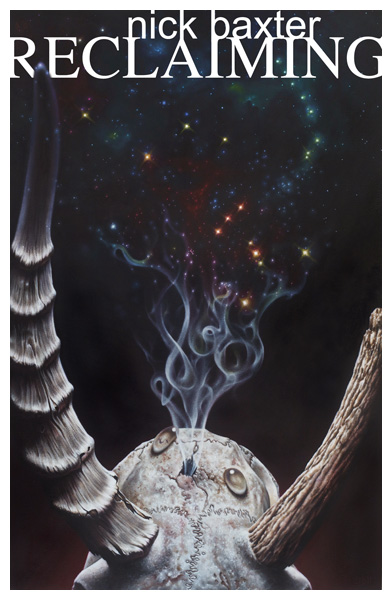 I'm incredibly excited to unveil this new body of work in a few months--I feel it's my most fully realized and technically proficient work yet. This show of all new paintings will open on July 7th, as part of Portland Oregon's first Thursday art event, at Nisus Gallery. More details on the work and the gallery opening will be posted soon.
I'd like to give a little shout to the traditional worker's holiday of May Day, celebrated every May 1st. Once widely popular throughout the world, this holiday celebrating working class solidarity has declined in recognition, not surprisingly, alongside the rise of global corporate capitalism and decreased political awareness of the working class.
Lastly, if you're in the Austin, TX area and want to deepen your critique of the types of issues I regularly post about on my website, and which nearly ALL of my artwork is concerned with on some level, please join my friend Trevor and I as we host a screening of the new documentary END:CIV, which is based on the work of radical environmentalist Derrick Jensen. You can find event details here, and here is a synopsis of the film from its website:
"Endless economic growth has turned into a global economic crash. What will the next hundred years bring?
Students of history know that all civilizations eventually come to an end. The ancient Mayans, the dynasties of China, and the mighty Roman Empire, as long-lived and powerful as they were, could not escape this inevitability. The same goes for the culture we call Western Civilization.
The causes underlying the collapse of civilizations can be traced to overuse of resources. As your eyes move across this screen, the world is reeling: economic chaos, peak oil, climate change, environmental degradation, and political turmoil. Every day, newspaper headlines re-hash stories of scandal, government corruption and betrayal of the public trust. We don't have to make outraged demands for the end of the current global system — it seems to be coming apart on its own.
But acts of courage, compassion and altruism abound, even in the most damaged places. By documenting the resilience of the people hit hardest by war and repression, and the heroism of those coming forward to confront the crisis head-on, END:CIV illuminates a way out of this all-consuming madness and into a saner future."
---
3/11/11

MARCH 2011
February was the month for finishing tattoo projects, apparently. Without planning it that way, I finished a number of ongoing large tattoos last month, all of which are posted in the skin gallery.

Over the spring a few more will be forthcoming, but most of the next few months will be spent painting for an upcoming solo exhibition at Nisus Gallery in Portland, Oregon.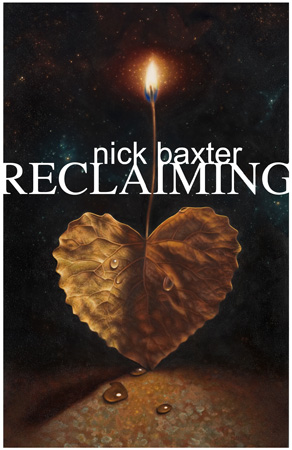 This show of all new paintings will open in early July, and has a current working title of "Reclaiming." This new series will carry on the thematic evolution from my last large series of work, "Rebuilding," which itself was a continuation of themes from a prior series titled "Surfacing." After the opening reception at Nisus, I'll be headed down to southern Oregon to take a painting workshop by Jeff Gogue at his studio. If you're interested in joining us, stay tuned for further details in the coming months. I'll be posting specific times and dates in a future announcement here.
Speaking of "Rebuilding," I am down to the final 2 prints of the recent series of giclee prints I released. Once these are gone, they won't be reprinted. There is one print of "Born From Pain" and one print of "Fever Dream" left. Email me for ordering info by using the contact button in the lower left corner.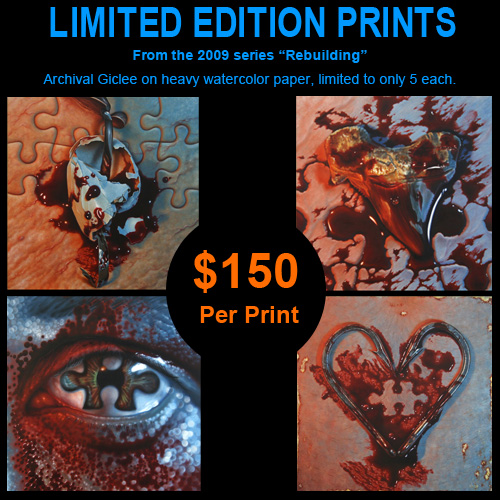 The last bit of news for this month is the release of a new educational DVD and website re-design by my longtime friend and artistic co-conspirator Adrian Dominic. His new website is slick as hell, with creepy music and flash graphics, and is so perfectly "Adrian." His DVD teaches the techniques and processes he uses to bring a tattoo design from conception to completion, incorporating digital media and Photoshop tutorials. It's perfect for any beginning tattooer, or any tattooer curious about using their computer to maximize their tattoo art preparation. Visit www.adriandominic.com and buy the DVD here.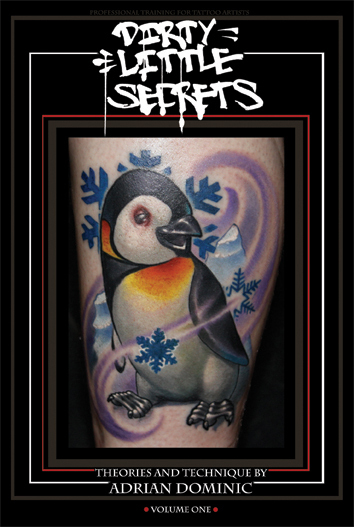 Have a great spring everyone!
---
2/3/11

FEBRUARY 2011
Happy New Year everyone. I'm just back from another amazing trip to the faraway land of Australia for two great conventions and a bunch of fun times with friends. Thanks to Marco from Surf n Ink and Claire from Rites of Passage for all the help, and also huge thanks to Trace & Raph, Gregos, Mick Squires and all the nice people I met and tattooed, for the great hospitality. If you haven't heard yet, parts of Australia have been destroyed by recent flooding and extreme weather, leaving many people dead, missing, or homeless. I'm happy to say that the payment for one of my tattoos at Surf n Ink was donated to the relief efforts--the least I could do to give back to a country that's been so good to me during both my trips there.
I didn't have time to do a site update before I left, so I missed the chance to announce some things more specifically, but at least now I have some new tattoos to show the world. You can check them out in my 'skin' gallery.
Lately I've been trying out the brand new product line of True Tubes for many of my tattoos, and I gotta say, these disposable tubes are high quality--combining just about all of the best features of both plastic disposable and metal reusable tubes, into one convenient product that's still cheap enough to be disposable. If you're a tattooer and curious to try them out, order some here.
The last bit of news for now is the availability of some extremely limited Giclee prints leftover from my trip. I originally made 5 copies each of 5 paintings from my 2009 series "Rebuilding" which was featured at Last Rites Gallery in NYC. All but one of the originals have since sold to various fine art collectors, so I figured it was time to offer some one-time-only prints of my favorite pieces from the series. One of the prints has since sold out, and only a few remain of the other 4 images I chose, so if you want to own a more affordable version of a piece from this series, act quickly before they're all gone, forever. You can see what's available in the advertisement here, and can email me through the "contact" button to inquire about ordering one. Of course, all of the images from the series are included in my new oil painting book, which you can order here.
---
11/26/10

BUY NOTHING DAY 2010
Once only known as "Black Friday", the day after Thanksgiving every year is the busiest, craziest consumer shopping day of the year. Recently, however, this infamous day synonymous with first world overconsumption, unsustainability and materialism devoid of soul, has spawned a counter-celebration called Buy Nothing Day. You can learn all about it and get plugged into ongoing efforts here. While especially appropriate on the biggest consumer day of the year, you don't need to wait for this one date, you can have your own buy nothing day (or days!) at any time...
Otherwise, I hope all you fellow Americans reading this had a good Thanksgiving, focusing on the positive aspects of the holiday, such as enjoying a meal with those you care about, or any other ways you can re-appropriate the meaning of the day to fit your own values. In the subversive spirit of my own rejection of the historical lies associated with this holiday, this year I'm posting a poetic interpretation of my painting "Little Brother", written by a Native friend of mine from the Cree tribe in North Dakota, which you can read here. The painting was inspired by my time spent on their reservation this summer, and features a depiction of a gift they gave to me: a little leather pouch filled with sacred herbs meant to protect the recipient from harm in his or her life. The title is a play on words, related to the famous quote "Big Brother is watching" from the George Orwell novel "1984"...a reminder that Little Brother is watching as well, waiting, plotting, surviving, protecting shreds of hope against all odds...
In art news this month, there are a few new pieces up. One is a new painting, a self portrait I started while taking Shawn Barber's excellent portrait painting workshop at the Paradise Artist's Retreat this past September. The other is a politically-themed promotional poster I made for the Rites Of Passage Festival I'll be attending in Melbourne, Australia, January 28-30 2011. The weekend prior I'll be tattooing at the 2nd annual Surf n Ink Convention in the Gold Coast region of Australia. Unfortunately I'm already booked up for both shows, but I'll be teaching a seminar on advanced tattooing strategies at Surf n Ink, and selling my new painting books at both shows.
Speaking of the books, thanks to everyone who picked one up so far, I sincerely appreciate the support and the feedback I've gotten on it. I'f you don't know about the book yet, see my previous update, below this one, for more details and links to further info! Or, if you're not observing a personal Buy Nothing Day, just order one here.
---
11/3/10

NOVEMBER 2010
Once again, a pile of announcements to make this month. Most importantly, my new book is finally available online through Tattoo Education and Proton Press.
I spared no expense in producing this book, and I'm really excited and proud to be able to offer it to you all for help in your own artistic journeys, or simply for your personal art enjoyment. Being a nerdy dude and a fairly conscious consumer, I'm always curious about the process behind the products I buy, so here's a summary of how it all came together:
As for the content, I spent months writing new material, compiling photos, and completely revamping all of the old material from my original oil-painting pamphlet. After this process I collaborated with Guy Aitchison who lent great expertise in an extensive editing process that spanned another few months, to ensure that we had a quality and thorough product. Next I opted to work with the talented designer responsible for the look of the always attractive CrimethInc. books. Through collaborating with him we achieved a gorgeous, modern-yet-classy presentation featuring a clothbound hardcover with red foil stamping, and a dustjacket with a fittingly Trompe L'Oeil-inspired spot-gloss finish. Then we researched ethically sound printing options, settling on a press in Canada that's unionized and uses recycled paper. This of course bumped up the production costs, which I elected to pay out of pocket. But, it is ultimately superior to and more sustainable than the typical route of cheap Asian mass-production, in countries like China who raise considerable human rights and environmental concerns; it feels good to offer a product more closely in line with my ethics, that attempts to be a little more Earth- and people-friendly. And finally, to show my appreciation for all of you who are quick to buy a copy, I collaborated again with the Paul F. Maul Artists' Group on a limited edition bookmark that comes free with the first 200 orders. These bookmarks were hand-printed on an antique printing press at the CrimethInc. Far East HQ in Salem, Oregon, and have that gorgeous fine art look and feel that only a handmade process could achieve. Check out the pictures below. Old-fashioned printing is really cool, and almost extinct!
I worked with Guy to settle on a final retail price that was as reasonable as possible, and considering all that went into this book, the $60 pricetag is a steal--especially when you consider that this first edition of 2000 copies will likely be the only one with all these fancy bells and whistles. Check out this commercial for additional info, and buy a copy here.
During Halloween weekend I took a last-minute trip to Colombia to work the 1st ever convention held in the city of Medellin, which I didn't have time to announce beforehand on my website. It was my first time in South America and it was an incredible experience in a fascinating place. Many thanks to all the friendly people I met and tattooed, and to all who helped and hosted me. Hopefully I'll get some of the tattoo pictures up on the site soon, so check back for a tattoo gallery update of those and other recently-finished work.
Lastly for this month, I'll be showing my fine art Nov. 13th-21st in the annual East Austin Studio Tour, so if you live in this area, look me up on that and come out to see some of my art in person! This open studios event is huge and one of my favorite things about living in Austin. It's inspiring to see all the artists living and working here in town and I'm glad I can take part this year after making this city my home a few years ago.
---
9/10/10

SEPTEMBER 2010
My busy summer that was supposed to be a more relaxing Summer is almost over--one last trip up to Massachusetts to teach a realism oil painting seminar at the Paradise Artist's Retreat in the gorgeous mountains of my homeland, New England. After that, it's time for a (hopefully) more relaxing fall season, as I have no more trips or travel appearances scheduled for the rest of the year, and await the unveiling of my new painting book available from Proton Press.
My recent trip to Phoenix for Hell City and the Wet Paint Project was a great time. The painting I worked on there is now complete, and you can see it in my painting gallery here.
This past winter I took a trip to the frigid land of (some of) my ancestors, Norway and had an inspiring art vacation with my friend and tattoo client PJ DeVilliers, who is an amazing illustrative artist and designer, and just an all around sincere and nice guy. During that visit we completed 4 collaborative drawings which have been up for a while in my collaborative gallery. PJ recently redesigned his website and did a very flattering feature on my art which you can view here, if you scroll down the page a bit.
Stay tuned for some newly completed tattoo projects I'll be posting soon, featuring not one but TWO full-color, complete coverage head tattoos. Brutal!
My educational item for this update, in response to the salmonella egg recalls caused by the horrors of factory farming and the corporate-greed-controlled industrial food supply chain, is the great new "Locavore" food movement. If we truly want to have access to healthy, safe, REAL food, we as a nation need to start eating local, eating food directly from our own gardens, farms, or local sustainable small farm operations. This is not a dietary issue, it's a political issue--if we're bickering or obsessing over who eats what type of diet, we're missing the point, and the corporations breeding sickness and helping destroy the Earth ultimately still benefit. The point is, no matter what you like to eat, to take your consumption into the living community around you and OUT of corporate and government-controlled hands. Part of this new movement is the "Eat Local Challenge" held every year. You can start to learn about all of this here and here.
---
8/2/10

AUGUST 2010
Wow--lots to talk about in this update. I should have updated last month but it's been such a busy summer! I've been hard at work on a new painting book which will be out sometime in the fall, on Proton Press. It's a complete overhaul and massive expansion on my older "Fundamentals of Realist Oil Painting" pamphlet, which for the time being is still available through the Tattoo Education site. Speaking of that website, check out this hilarious infomercial, featuring Oscar-worthy performances from Guy Aitchison and other members of the tattoo community. Pure genius.
Just added to the website are a new graphite/collage piece for an upcoming book celebrating little-known holidays, a new painting (sort of...it's the cover image I painted for my upcoming book), and the start of a new rework tattoo project on the aforementioned Guy Aitchison, which I did during my most recent trek to the art compound known as hyperspace studios. So while you're here have a look around the galleries. A few more recently completed tattoo projects will be added soon as well.
At the end of this month you can find me in Phoenix, AZ at the always exciting Hell City Tattoo Fest. I'll be splitting my time between tattooing and painting in a live event hosted by phenomenal artist Chris Dingwell. So needless to say, my time is all booked up but as usual feel free to come hang out, say hi, and rage on the waterslide, which I hope to be frequenting.
In the midst of all the summer work I escaped for a week to the middle of nowhere, North Dakota to spend some time as a guest of my native Indian friend on his reservation. During the trip I spent a perfect day out in the beautiful country trying my hand for the first time ever at some on-location, "plein air" painting. Here is the result of that session, "Red Canoe" which I gave to my gracious hosts.
I hate to end on a sad note, but reality needs to be faced, and that's okay. As we sit here, comfortably numb in front of our computer screens, millions of gallons of toxic oil is STILL poisoning an entire ecosystem in the Gulf of Mexico, from the negligence of sociopathic corporations whose policies control entire governments (newsflash: our own!), and thus, decide the fate of who lives and who dies in this world. Please look into this tragedy and see what you can do to volunteer, donate, or boycott. The health of our oceans and certainly the Gulf coast will likely never be the same after this. Modern industrial civilization is poisoning our planet. Get informed, get active. Tattoos are fun and all, but let's keep a healthy perspective on things.
---
6/17/10

JUNE 2010
I hope everyone's enjoying the summer so far, yet also staying informed on the ongoing oil catastrophe in the Gulf Of Mexico, which is sure to wreak havoc on our natural world--you know, the place that makes it possible for all of us to be alive right now--for a long time. Please, make a donation to a helping charity if you can spare some cash, or find out anything else you can do, including try to use less fossil fuels and less BP!
In brighter news, the Toronto NIX Convention is coming up, and will feature a benefit art auction for the Skate 4 Cancer charity. Many tattooers were asked to paint a rock & roll themed skatedeck for the show, and I chose a tribute to one of my favorite hardcore bands of all time, the recently defunct straight edge band Have Heart, from Boston, MA. This music has had a profound effect on my life with its positive message and energetic spirit, so I'm glad I got to pay tribute and support a good cause. You can see the deck HERE, and look into bidding on it, or any of the others!
Please note: I will not be attending the Toronto convention! I only painted a skatedeck for the art show!
Lastly, I've started working in earnest on the long-planned revamp and expansion of my instructional painting book. The new version will be over twice as long, with twice as many instructional tips, techniques, and strategies, and about 5 times as many photos! This hardcover book will likely be over 100 pages of intense instruction and full-color plates spanning a wide selection of my own paintings through the years. Even if you've already bought my current pamphlet, you will benefit greatly from this new version. It will be released through Guy Aitchison's Proton Press hopefully sometime in the fall. Stay tuned for updates!
---
5/16/10

MAY 16th, 2010
The past month has been so incredibly busy for me that I didn't get a chance to update this before the opening of the Flesh To Canvas art show at Last Rites Gallery, which features a painting of mine. But, the show runs for about a month so if you're in that area you can still check it out.
Later This month I'll be in another NYC art show, a tribute to Monica Henk, a tattooer and artist tragically killed in a hit and run accident. It was curated by Dan Henk and opens at Sacred Gallery on May 30th.
This coming weekend I'll be at the Hell City Tattoo Festival in Columbus, Ohio which is one of the best conventions in the world. This year's event will feature the release of a book and DVD chronicling the awesome Innerstate live art event that Guy Aitchison hosted at last year's Hell City. I was fortunate to be a part of this monumental group of tattoo artists and it should be a lot of fun getting to look back on my experience at the DVD screening this Friday night. The weekend will also see the releases of the Pint Sized Paintings book that i am a part of, as well as the Tattoo Prodigies book...so needless to say this year's Hell City will be another amazing time. So come see all this stuff, buy some awesome art books, and say hi.
Hopefully you are already aware of the oil spill catastrophe in the Gulf of Mexico, which threatens the health of an entire ecosystem that both animals and humans depend on. Once again, oil corporations and dependence on fossil fuels have damaged the Earth that keeps us alive. Please, read about the disaster and what you can do to help. Go HERE to see what you can do or who you can donate to. Even something as simple as skipping out on going to a movie and donating that money instead will help in a small way! Or, boycott BP if you feel that's appropriate. Just do something! Lacking the time to go down there personally, i recently gave a large donation (from the sales of my recent exhibition at Last Rites Gallery) to several organizations who are getting volunteers and resources together for the cleanup and wild animal rescue.
---
4/1/10

APRIL 2010
Hello people, just got back to the States from a trip to the first annual Tattoo Ink Explosion in Monchengladbach, Germany hosted by Andy's Body Electric. It was a really good show and as usual on my travels, I met and tattooed some nice people, so thank you all for the support. My booth was next to Mike Devries, who had an advance copy of his new book Tattoo Prodigies for me to check out, and it was very impressive. Mike and his helpers did an amazing job with this huge, glossy coffee-table book which should now be available, so check it out.
After Germany it was off to Norway for a little art vacation with my friend PJ, who is an awesome artist and who has an older sleeve from me. You can check out a lot of his work on his site www.theshallowtree.com. We spent a lot of time checking out the amazing art museums of Oslo and then coming back to his apartment inspired to make some collaborative art. Check out a progress preview of some of what we did below. In the near future i hope to have a gallery on this website for all the collaborations I've done over the years, many of which have never been widely shown or shared with anyone. So stay tuned for that.
Before my trip I finished a painting, now in my canvas gallery, for the upcoming Monica Memorial Show in NYC being hosted by Dan Henk. It's a tribute show to his late wife who was tragically killed in a hit and run. Stay tuned for more on that.
My next trip is to Hell City Columbus, in Ohio in late May. I'm already booked for the event but as some of you ma already know it's pretty much the best convention running in the States right now, and worth checking out. The vibe is always good and the quality of art and artists exceptional.
---
3/6/10

Lots of new content on the site this week: 2 new tattoos finished this year, 12 new paintings (including the entire 'Rebuilding' series from my Last Rites Gallery exhibition, and a new one), and a bunch of writing related to the motivations and symbolism behind the 'Rebuilding' series. You can read that stuff here.
You can get all of this 'Rebuilding'-related content in the form of a 2010 calendar from www.tattooeducation.com, but not for long as I believe they are down to the last bunch out of the 500 printed.
---
2/18/10

Many thanks to all who came out to my art opening at Last Rites Gallery earlier this month, and special thanks to everyone who bought a painting, as well as Paul Booth and co. at Last Rites. This is just a reminder that the exhibit still hangs for the rest of the month so even if you missed the opening night festivities (featuring an awesome collaborative painting with the Last Rites tattoo crew) you can still stop by and see the art in person. Some of the paintings are still unsold, so if you were interested in owning one make sure you stop by the gallery, call, or email them for details. The gallery does a great job for the artists they show and really work to sell the art they exhibit, so they deserve the support.
You can read a review of my exhibit on gallery director Andrew Michael Ford's blog here.
If an original painting is simply out of your pricerange and you're looking for a little collectible item, I have a limited number of 2010 calendars available which feature all the artwork from the show, combined with writings and quotes that delve deeper into the symbolism and motivations for each painting. While supplies last, you can get those here. But by all means, if you're in the area, stop by Last Rites Gallery and see the work, as it's always best to experience a piece of art in person.
Coming up in March is another trip to Germany for the Tattoo Ink Explosion convention near Dusseldorf. Unfortunately I am already booked for the weekend. But if you're a tattoo fan or collector you should definitely come out to this show, as it promises to be an amazing line up of artists. Andy from Andy's Body Electric has done a great job organizing the event.
---
1/28/10

Just sent to me this week from Last Rites Gallery is this latest flyer for my upcoming exhibition, which is apparently now being called a solo show. Anyone who knows me well enough knows how I get while being made into the center of attention, so I guess this opening night reception just got a little more interesting. If you're in the area come out and experience a bit of the awkwardness for yourself. But really, all jokes aside, I'm looking forward to it and to seeing some of you there.
In other news, just released this month by some friends of mine at Triple Crown Tattoo here in Austin, Texas is a giant art book called Coquille Or Be Killed!, which features black and white renderings by hundreds of tattoo artists, on the unique coquille paper surface. I have a piece included in the book. Find out more on the project and order a copy at www.coquilleorbekilled.com
---
1/22/10

Hey everyone, just a reminder that my split show in NYC is coming up in 2 weeks, with the opening reception set for 7pm on Saturday, February 6th. See www.lastritesgallery.com for more info. Pre-show response to the series of new paintings I completed over the past year has been positive so far, with a few of the pieces already being sold. Come to the opening and say hi, and see the work in person. Afterwards, it will be posted to my website, along with extensive writings on the symbolism and themes, to help add a deeper dimension to the work for any who are curious.
Also, just added to my skin gallery are the tattoos I did on my recent trip to Australia. Thanks to all the amazing and friendly people I met, hung out with, or stayed with over there. I had such an awesome time and hope to be back again in the not too distant future.
---
1/7/10

JANUARY 2010
This month I'll be attending the Surf n Ink convention on the Gold Coast of Australia. Unfortunately, due to a recent wrist injury I'm still healing from, my tattooing may be limited. However, I'm looking forward to representing at the event and seeing some sights in a new country. If you're in that part of the world, or going to be at the convention, stop by my booth and say hello. I'll have some limited fine art prints and my instructional painting books available for sale.
In other news, earlier this month was an ebay auction for a great cause, hosted by Gaston at Fallen King Irons, which are some awesome tattoo machines I've been using for the past year. He raffled off a one of a kind tattoo machine to benefit the campaign to stop the aerial slaughter of wolves in Alaska, an absurd and criminally insane project championed by psychotic conservatives hellbent on domination of the natural world and all its beautiful lifeforms. Seriously, it's mind-blowingly cruel and unusual. Research it online here and educate yourself, and donate money to the legal fund set up to fight it, or check out the info on the auction page here.
---
12/15/09

DECEMBER 2009
Last week I recorded an interview with Pamela from Vegan World Radio, based out of Houston, TX. I was interviewed along with Brian Wilson, owner of the infamous and fabulous all-vegan tattoo studio Scapegoat, in Portland, Oregon about the politics of veganism and being a tattooer with this lifestyle. The interview will air tomorrow, Wednesday, December 16, from 10 p.m. to 11 p.m. CST on Pacifica KPFT 90.1 FM, Houston, TX. You can stream it live at www.kpft.org. You'll also be able to download the show from the KPFT archive as soon as the show finishes, so it's not a big deal if you don't catch it when it first airs. It will also be uploaded to YouTube.
I also just finished up all the work for an upcoming gallery exhibition entitled "Rebuilding" which will debut at Last Rites Gallery in NYC, February 6th-28th 2010, as a two person show with Fred Harper. This series of 11 paintings documents and explores an intense period of deconstruction, healing, and discovery that I underwent during the past two years, and I'm incredibly excited to show the result of this effort at such a respected gallery alongside an awesome artist. Please come out to the opening night party on Feb 6th and check out my new work, all of which is for sale through the gallery, and will be posted to my website after the show opens.
In other news for this month, on December 4th an excellent feature on me and my art went up on the website www.jinxiboo.com. It was written by the amazing tattoo art aficionado Jinxi, whom you can learn about on her website. I'm honored and flattered to have a spot on there, because it's a great site with tons of useful and inspiring content. Do yourself a favor and check it out. The interview is no longer on her front page but you can see it at this link:
www.jinxiboo.com/blog/2009/12/4/jinxis-interview-with-tattoo-artist-nick-baxter.html
Thank you all for the continued support!! Have a great holidays and New Year.
---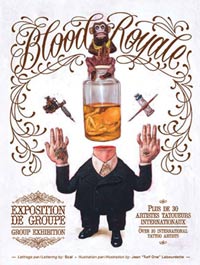 9/1/08
Hey everyone, I am slowly getting settled into my new surroundings in Austin, Texas, and filling up my fall tattoo schedule quickly. I've completed 2 new paintings this past month, and have posted them to the canvas gallery. I have new paintings showing in a few group shows this fall, including what looks to be an exciting show in Montreal, Canada at Yves LaRoche Gallery (www.yveslaroche.com). I will add more updates here when I get further info on the other shows I will be submitting art to. Just a reminder, as of right now i am completely booked up for the two conventions I am attending in late October: Evian, France and Paradise Tattoo Gathering in Massachussetts. I will be presenting an oil painting seminar with fellow tattooer and painter Dan Henk at the Paradise show, which will be much different than my solo painting seminar. It will feature actual painting by attendees, with one-on-one guidance and instruction from Dan and I. It should be a great learning opportunity for new or intermediate oil painters, so check it out if you're attending the show. Info is posted at http://www.tattoogathering.com/events.html
---
6/14/08
JUNE 2008: Hey everybody, big news! I am relocating very soon, leaving my lifelong home state of Connecticut in July for Austin, Texas. Although this may seem like very short notice to anyone who doesn't know me, all of my clients, friends and family have been informed of this change for a while now. For everyone else, including those who may have been hoping to get tattooed at some point, the policies and procedures regarding that will remain essentially the same--only my location is changing. I will still maintain a very selective workload, responding to the inquiries that inspire me the most, and reserving priority for existing clients with projects in progress. Guest spots and convention schedule will also remain the same. So please feel free to continue to email me through this site or through tattoonow.com, and check the FAQ page in my 'thought' section for the usual miscellaneous tattoo info. More details will be posted soon about where I'll be tattooing temporarily after I get to Austin, and then regarding a private studio I will be tattooing at with friend and fellow artist Jeff Ensminger, who is moving to Austin as well, from his current home in Dallas. Check out his work at www.jeffensminger.com, and get psyched. I know I am. So stay tuned for more info posted here or through my email newsletter. Again, everything should remain similar to how I do it now, except in Austin instead of in Connecticut. This is a completely amicable split with my current shop Transcend Tattoo, so I will still be recommending the awesome tattooers there to anyone in the CT or New England area, as well as doing guest spots there on occasion in order to keep up with my hometown clientele who can't see me in Texas. Thank you so much to all who have supported me over the years!! I hope this will turn out to be an exciting new chapter in my life and career, but I couldn't have gotten to this point without all the great people who like my art or who've gotten tattooed.
---
3/25/08
Finally, my BRAND NEW FINE ART PRINT IS AVAILABLE! I just finished putting together all the materials for this print, 'zine, and poster package which you can see above. This is the culmination of a multimedia project began this past fall meant to combine the painting image with written material corresponding to its symbolism and the issues it addresses. The 'zine features an essay I wrote as well as an extensive collection of writings by a variety of people who responded to an invitation sent out in my website newsletter, and was hand assembled with individually stenciled covers by some of my close friends and I over the past month. Also included is a great poster on the topic designed by the masterminds at crimethInc.com. I spared no expense in producing the highest quality reproduction of this painting--flying to Dallas, Texas to personally oversee the printing process at one of the best fine art repro companies in the business. You can buy this print package from me in person at Transcend Tattoo, or mailorder one by sending an $80 money order (made out to me), to the shop address below. PLEASE EMAIL OR CALL FIRST TO MAKE SURE IT'S NOT SOLD OUT! And allow a few weeks for delivery. Transcend Tattoo 906 W. Main St. Branford CT 06405 USA. 203-481-9372 Another big improvement to the website this month. The 'Pixel' gallery has been overhauled to be a place for my occasional digital fine art projects, rather than logo and graphic design, which I have gotten away from in recent years. This is part of my continuing effort to keep the site not only up to date, but relevant to my current artistic tastes, projects, and aspirations. While I don't feel that all of the new Pixel gallery content is representative of my strongest or most compelling work, it's been a fun outlet for me to dabble in over the last several years and is something I hope to continue doing more of.
---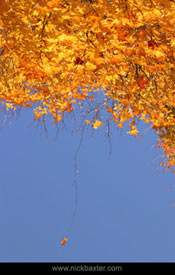 2/22/08
FEBRUARY 2008: Another big improvement to the website this month. The 'Pixel' gallery has been overhauled to be a place for my occasional digital fine art projects, rather than logo and graphic design, which I have gotten away from in recent years. This is part of my continuing effort to keep the site not only up to date, but relevant to my current artistic tastes, projects, and aspirations. While I don't feel that all of the new Pixel gallery content is representative of my strongest or most compelling work, it's been a fun outlet for me to dabble in over the last several years and is something I hope to continue doing more of.
---
9/20/05
9/20/05: My trip to Ireland and my guest spot at Triskele Tattoos were a great success and an incredible experience made possible by some generous and kind people. What a beautiful country! Many sincere thanks go out to Janine and Stu at the shop for all their accomodations and help, as well as to Candle Chris and Picnic Paul for making me feel at home and showing me around the gorgeous Northern Ireland countryside. Thanks as well to everyone else who got tattooed. A few of the tattoos from this trip are now up in my Skin gallery.
---

JUNE 2005: Lots of news! Firstly, I will be doing a tattoo guest spot overseas at a studio in Ireland called Triskele Tattoos, from Sept. 10th through 15th 2005. If you are from that part of the world and are interested in an appointment, please email me or contact the studio. Their website is www.triskeletattoos.com I have made a bunch of changes and updates to this site lately. There is now a frequently asked questions page you can access in the 'thought' section or via the ? in the lower left corner of every page. I have also included a new artist's statement about my work in the 'thought' section. Most importantly, there are new tattoos up in the 'skin' gallery as well as a completely new 'paper' gallery featuring a series of mixed media pieces I have been doing lately. This gallery will no longer feature tattoo drawings--it is now devoted to this new artform I've been experimenting with. The new studio that I tattoo at, Transcend Tattoo and Art Gallery is now fully operational, and will be having its grand opening party and art show this summer on July 23rd. And lastly, I will be having some artwork in the upcoming Hope Gallery small works show, which should be an amazing display of artwork from around the tattoo industry and elsewhere. Check out www.hopegallerytattoo.com for more info. Another reminder: I now have a mailing list sign-up in the 'Community' section, for anyone who wants to receive occasional updates about new happenings involving my art and tattooing, including travel appearances. Thanks for the interest and enjoy.
---

MAY/JUNE 2005: A bunch of newly completed tattoos have just been added to the 'skin' gallery, including some long-running uncompleted work that I finally got a chance to finish. I have some other new stuff on the way, as well as a travel announcement, so stay tuned for more in the next two weeks...
---