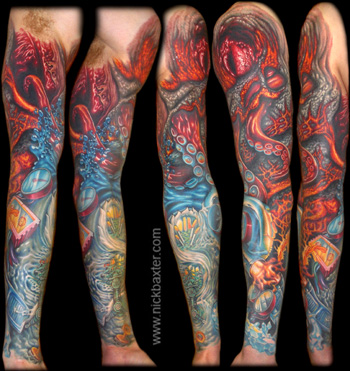 Donnie Danger Sleeve
Lots of chaotic crazy stuff on a client of mine and Lou's named Don (aka donnie danger). The entire forearm can be viewed seperately elsewhere in my tattoo gallery--it was a collaboration of sorts between Lou and I, and has to do with cars. The entire top half of the sleeve is newer and done by just me. It is octopus tentacles, flowing lava, ripped open flesh, and splashing water. Note to self: trying to realistically render lava is tedious as hell.
large image
back
Image copyright Nick Baxter. No reproduction without permission.