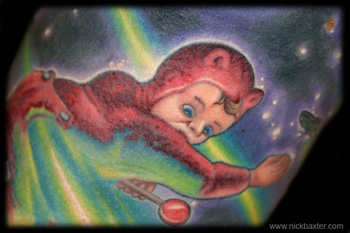 A Clean Slate/Fresh Start (Detail)
This detail from the shooting stars half-sleeve shows a toddler, the symbol of a still untainted mind and spirit, in awe of his newfound consciousness yet already knowing how to fulfill his own desires (hence the lollipop). This was done primarily with 7 and 3 rounds.
large image
back
Image copyright Nick Baxter. No reproduction without permission.