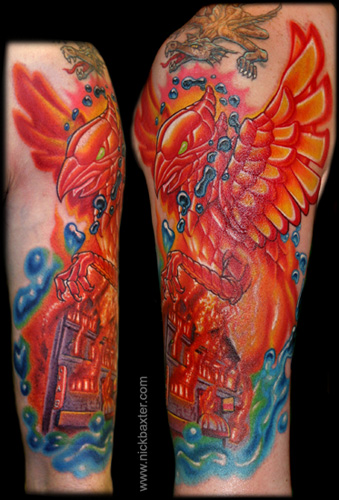 North Street Arcade Fire
This tattoo, done in Ireland at Triskele Tattoos, was a memorable experience. Firstly, the symbolism of the piece is deeply significant and has a crazy story behind it. It represents the client Chris's experience of watching his old business be entirely destroyed by an arson fire. This fire consumed a very historic building in Belfast, and was presumably orchestrated by someone who stood to make some quick money on it's destrucion. While an investigation is still ongoing to this day (and no monetary losses have been recovered), Chris has since moved his business elsewhere and against all odds has recovered financially and emotionally from losing everything in this fire. The building in this tattoo is the actual North Street Arcade (taken from photographs of the burnt out structure, which Chris actually took me to during my stay in Ireland). A phoenix rises form the flames, symbolizing Chris's eventual perseverence, and the water is symbolic of both fighting the fire and the fact that his business was/is a hydroponics and indoor gardening supply shop. By the end of this whole experience I couldn't help but feel connected to the tragedy, and this tattoo was a pleasure to do. We can only hope that justice will someday be served...
large image
back
Image copyright Nick Baxter. No reproduction without permission.