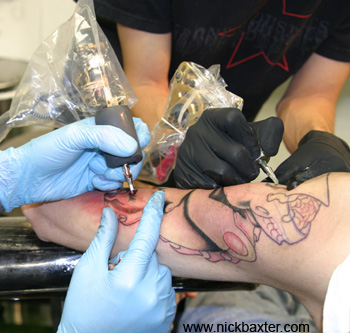 Adrian and I Tattooing Together
This is Adrian Dominic and I working simultaneously on the first of two collaborative tattoos we did while I was guest-spotting at Phoenix Tattoo Co. in Tempe, AZ. That's me in the blue gloves. I'm using my trusty Pulse Gatsby, he's rocking a Next Generation machine. Keep an eye out for more work from Adrian in the future--he's a talented guy and he's gonna be huge I'm sure...
large image
back
Image copyright Nick Baxter. No reproduction without permission.