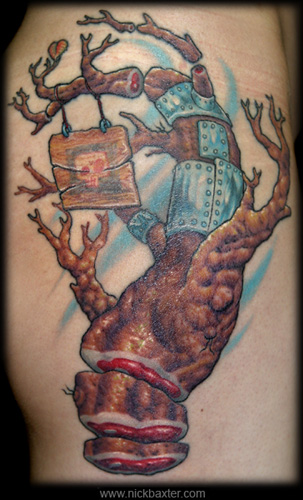 Postmodern Family Tree
Collaborative tattoo done simultaneously with Adrian Dominic from Phoenix Tattoo Co, on our good friend Sam. She requested something showing the concept of choosing your own 'family.' I came up with the concept and most of the drawing, but during the tattoo process we switched areas of the tattoo every 10 minutes to make it more truly collaborative. The meat slices are meant to give it a more human aspect, as opposed to nature, and the pieces of metal are where branches of the family tree have been cut off and new ones attached. There are a few hairy warts on the bark to symbolize the imperfections inherent in all of us. The hanging wooden sign was a solution to incorporating an existing tattoo of a skull--we tried to make it look like aged paint on the wood.
large image
back
Image copyright Nick Baxter. No reproduction without permission.