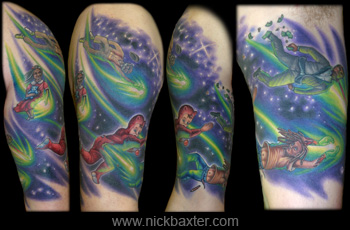 Shooting Stars Half sleeve
This was an incredibly fun piece to do on a great guy, my friend Todd who is vocalist in an amazing local hardcore band called With Honor. Many of the lyrics Todd writes have to do with staying young and idealistic at heart and being strong enough to stand up and pursue your dreams--and these ideas formed the basis for this tattoo. It features a cast of characters from each major stage of life flying through space on their own shooting star. Each has their own unique symbolism, which is illustrated in part by the accessories they are holding or wearing. Because of the level of fine detail in the figures, each one received 2 to 3 layers of pigment during different sittings, to make sure that they were as solid and crisp as possible. We discussed the dangers of having such small details, as they could be affected by blurring over time as the skin wears, but only time will tell. However, much care and time was spent getting them to be as durable as possible.
large image
back
Image copyright Nick Baxter. No reproduction without permission.