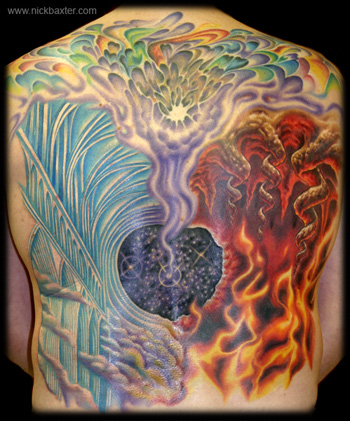 Gerry's Heaven And Hell
Family friend and longtime client Gerry's backpiece, which completes an upper body project at least three years in the making (this connects to a chestpiece and two outer bicep pieces). This whole project is about Gerry's own spiritual beliefs. His back is the division of heaven (a gleaming, serene cathedral in the clouds) and hell (a fiery dark cave with downward-spiral rock formations), unified/balanced in the center by the cosmos. From the cosmos comes all creation, symbolized bu the breath of god rising out of it. From this, chaotic energy bursts forth (the crazy swirls of color), which becomes more and more organized as it moves over the shoulders onto his chest (featured elsewhere in this tattoos gallery). Oh yeah, this is my first ever completed, full coverage backpiece.
large image
back
Image copyright Nick Baxter. No reproduction without permission.