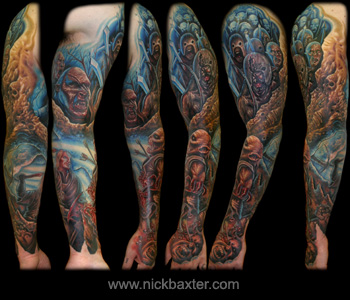 Orc Battle Sleeve LOTR OMG LOL
This Lord Of The Rings inspired sleeve is on my friend Nick, whose sister's name is the same as my sister's name too, and her husband's name is the same as my sister's husband's name, and they are the same number of years apart in age as my sister and I are. It's creepy. Anyway, like the other LOTR tattoo in my tattoo gallery, this was created using movie stills and set photos as reference, but still interpreted through my own style, so nothing is reproduced exactly from the movie. This took a long time because Nick's arm is big, and most of it has 2 or so layers of pigment. The composition is basically a collage of battle scenes broken up by rocky cave scenery. Lastly, for all you true fantasy nerds, I changed the Orc blood from black to red for artistic reasons, so no complaining.
large image
back
Image copyright Nick Baxter. No reproduction without permission.