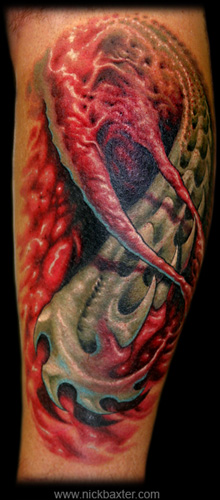 Collaborative Tattoo II
Another collaborative tattoo done simultaneously with Adrian Dominic. For this piece we did a full-color drawing beforehand, sometimes simultaneously and other times taking turns, with a general plan in mind for subject matter, composition and colors. Then we stenciled it on, Adrian did a quick greyline, and then we worked together the rest of the way for approx. 6 hours. Done on the road in Tempe AZ at Phoenix Tattoo Co.
large image
back
Image copyright Nick Baxter. No reproduction without permission.